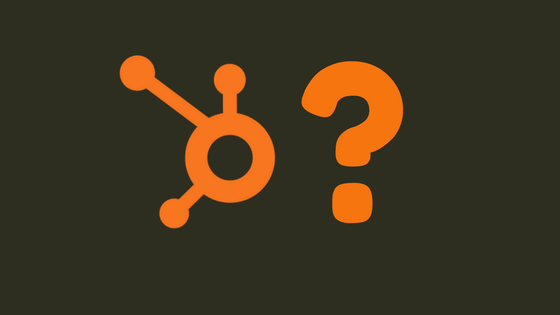 HubSpot is now used by over 20,000 customers worldwide. For many SaaS marketing firms, the sales and marketing platform has become an integral part of their strategy to win and retain new customers.
I guess for someone like you, who's thinking about getting HubSpot, you require evidence that it actually helps to boost your strategy and will achieve greater results? To start this blog, I've picked out one HubSpot customer in the SaaS industry who has seen tremendous results from using the sales and marketing portal.
650% increase in leads
Oxfordshire-based business process management company, Triaster, has spent 20 years building a reputation and collecting clients such as Microsoft, Balfour Beatty and HomeServe along the way. While their content marketing efforts were achieving good results, pre-HubSpot, their collection of disparate tools means their hard work to achieve website traffic to generation leads, was in vain.
After evaluating a range of options, Triaster chose HubSpot and the results have been exceptional. a 109% increase in website traffic and a 263% increase in organic traffic has led to the company achieving an increase of 650% in new business leads.
This upturn in leads generated online was enough to meet their aggressive new business KPIs, and help the company reduce their external lead generation spend by £80,000. Operations Director at Triaster, Emma Harris said on the move to HubSpot:
"We knew that we needed to invest in marketing software to power our new strategy, so we began the search. We started looking at the main players in that space, including Pardot, Marketo and HubSpot."

After evaluating all three, the HubSpot software won out...The online reviews we read all pointed to the HubSpot software being the best solution for us. It has everything we need – it saves us time, it's easy to use and helps us be more effective."
Unaligned content strategy
Triaster are a typical example of the troubles that SaaS firms sometimes fall into. You're brilliant at creating the initial content that generates leads, but fail to align the buyer's journey in order to turn more leads into customers.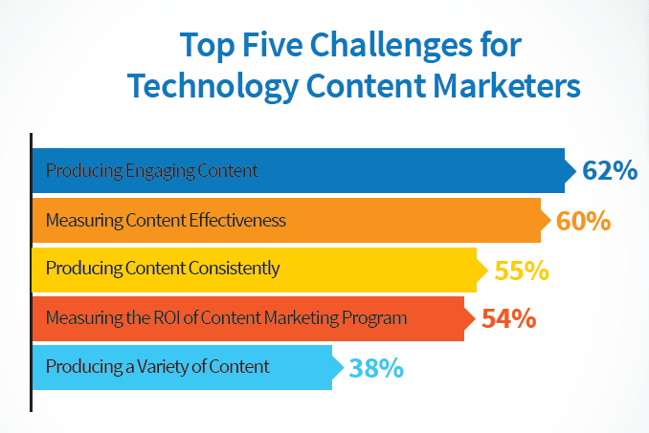 Another issue, as highlighted in the Content Marketing Institute's 2016 B2B Technology Trends, above, is that SaaS firms struggle to measure content effectiveness and measure the ROI of these campaigns effectively.
Connecting your marketing efforts
You don't need to be a genius to figure out that connecting the dots with an all-in-one sales and marketing platform could help generate more leads, and help solve the challenge that many SaaS marketers fail to do - report back on the effectiveness of campaigns. Here's how HubSpot can help to solve these two challenges directly.
Generate more leads through HubSpot
HubSpot is built around turning more of your website visitors into genuine business leads. By aligning your content marketing into campaigns, and focusing your efforts on who your buyer persona (target market) is in specific detail, HubSpot allows you to leverage tools that generate leads. Here's just some examples of how it does it:
The keyword and blog tool allows you to define key phrases that are popular searches among your buyer personas, and use this data to turn keywords into well-optimised and engaging blogs - boosting organic traffic.
Traceable call-to-actions can be created on HubSpot and implemented on your website to take visitors to content offers, such as eBooks and webinars, to collect their contact information.
Best practice landing page templates can be accessed and optimised by HubSpot customers to ensure they're content is downloaded at a high conversion rate.
Email automation and workflows helps your business keep in contact with new leads, helping to guide them further down the 'sales funnel'. The email tool can also be used to re-engage old contacts with new content offers and collateral you have created.
Reporting back on marketing effectiveness
As well as assisting you in creating effective marketing campaigns, HubSpot cleverly tracks contacts right from their first visit on your website, to when they eventually become a customer. This end-to-end customer data gives you the chance to assess marketing performance, and more importantly, accurately work out the ROI of the campaign you've run. Here's how HubSpot makes it happen:
Website visitors who sign up to new content on your website can be tracked every time they come on your site. They can also be tracked through their social media activity, and the emails they recieve from you, giving you greater customer insight that is all in one place.
Tracking codes can be created and added to campaigns within HubSpot allowing you to accurately track the performance of online advertising, such as Facebook Ads and Google PPC. Leads generated through this advertising can be tracked throughout all their communications with your business.
HubSpot allows for closed-loop reporting, meaning web visitors can be tracked all the way to becoming a customer. Integrating with HubSpot's CRM, you can see a customer's journey through your marketing efforts - giving you greater visibility of what marketing tactics work, and what ROI these campaigns have achieved.
Is HubSpot for you?
This is just a glimpse inside what HubSpot can potentially offer you. The alignment and optimisation of your marketing campaigns means you can finally monitor and assess how well you're doing your job - and where you can improve your performance.
If you want to explore HubSpot in more detail, get in touch with us today.