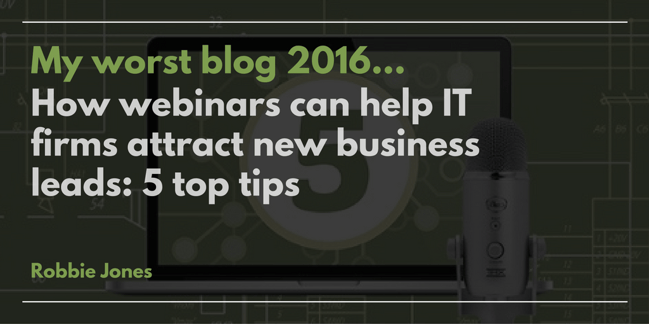 I'm not going to lie to you, I was pretty ashamed at our last marketing audit to discover that it was MY blog that was crowned the worst of 2016.
Whhhaaatttt!
As the man who's assigned the task of chief copywriter, it is my job to write blogs, articles, eBooks and more to inform our Katapult blog subscribers and create content for our clients. How on earth did this happen?
As a man full of anger as to why my blog, "How webinars can help IT firms attract new business leads: 5 top tips", didn't work, I began unpicking the stitches of this woeful piece of work :-(...
The stats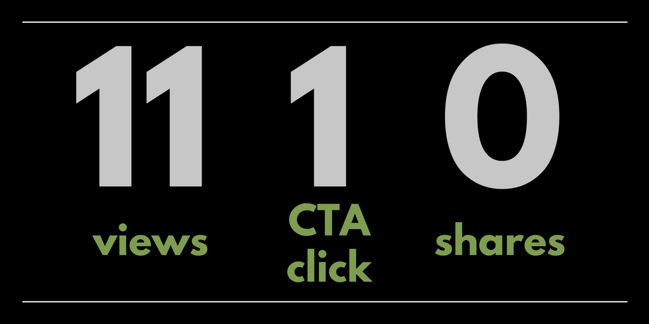 It took me a good three hours to write the blog, including research time and proof-reading for amends. The result of all that effort was... 11 views only. To make matters even worse, the blog only received one call-to-action click and zero shares by other followers on social media.
In an attempt to salvage some good news from this blog, I delved into the depths of Google Analytics, perhaps the 11 views were website visitors that read my blog in full? That would make me feel happier.
Average time on page: 00:00:17
Bounce rate: 90%
Page value: £0.00
Damn.
No matter which way I looked at the stats, my blog had failed badly since its launch in July. There was, however, a chink of light at the end of the tunnel... I can learn from the mistakes in this blog.
So, let's rip it apart

Blog topic
The topic, to say the least, was incredibly niche. I wanted to really hone down on marketers within the IT and software industry to tell them about the benefits of webinars for their marketing. Despite not expecting the blog to reach thousands of views, I still expected IT marketers in their dozens to read this post. Maybe they don't want to know about webinars at all?
Blog title
The title "How webinars can help attract IT firms attract new business leads: 5 top tips" is a bit of a mouthful. Perhaps making the title more succinct would have got the attention of more people, thus driving more views to the blog. Maybe leading with the phrase "5 top tips" may have swayed a larger audience too.
Format
If I wanted to show the benefit of webinars to drive new business leads, why on earth didn't I create a webinar instead?! The written word can certainly help to inform and educate an internet browser, but on this occasion re-formatting the blog into a webinar may have got greater results.
Image
The blog image, which can be seen above, does look a little bit like the opening frame of Thunderbirds, old version not the new. Yes, the microphone and screen hints that the blog is about a "webinar" but could an image symbolising "new business" be a better blog image instead?
More images
Our online attention spans, as a collective, is rapidly reducing. This means that a simple article with headers and supporting text can get too boring for some people. Was my webinar blog simply lacking images to break up the text? Hmmm, food for thought.
Social sharing
By my calculations, the blog was shared only 15 times across Twitter, LinkedIn and Facebook to our followers. While the amount of marketing professionals in the IT industry following our accounts may be limited, sending out more posts at different times of the day, week and year may have helped to improve website visits.
Wrong hosting site
Something we have done in the past is write educational marketing content for industry-specific news websites. Maybe this blog should have been turned into an article and placed on a IT news website as part of a guest blogging strategy.
Taking it on the chin
Looking back, there is a lot of things I probably would have changed in this blog to try and drive more views and more engagement. Thankfully, digital marketing gives you the ability to track, monitor and learn what you can do in the future, for the better.
For me, it is simply a case of taking this blog on the chin, and making sure my next one is even better.
Here's to better performing blogs in 2017!