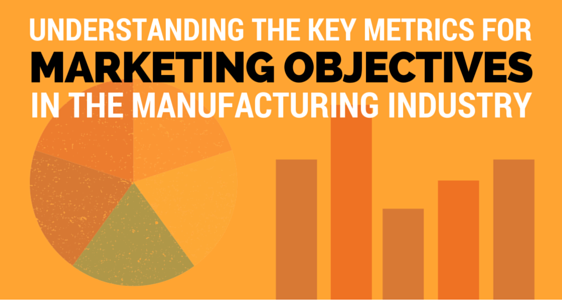 As a marketer, you are spoilt for data. Across marketing automation software, your website and social channels, there exists a myriad of metrics to monitor and understand your marketing performance.
As great as this is, however, it makes it incredibly easy to focus on THE WRONG data for your marketing objectives. If your focus is driving traffic, conversions or sales on your website, you can get too caught up in off-site performance such as comments and replies on social media, rather than understanding the sources of traffic to the site, and the associated strengths/weaknesses and opportunities.
In this blog, we look at what is really important for manufacturing marketers, based on recent data trends.
Marketing Objectives Within The Manufacturing Industry
A recent report by the Content Marketing Institute surveyed a number of B2B manufacturing businesses, to understand (amongst other things) how they approach content marketing, how effective they found it, and what works for them.
It can be seen that brand awareness, lead generation, and lead nurturing are the three of the most important marketing objectives for B2B manufacturers. Customer evangelism and retention are lower priority, along with upselling and cross-selling, so this will determine the key metrics you should focus on first.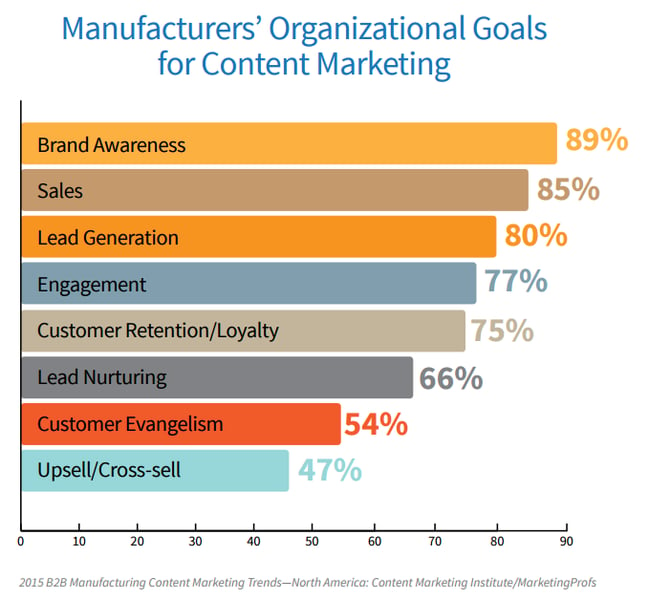 Brand Awareness
Brand awareness can be measured in a number of ways. Outside of using traditional surveys and questionnaires, social reach, direct traffic and search terms used can give you valuable information into the awareness of your brand.
Social Reach
Looking at how many followers you have on social media can be a good indication of brand awareness. If this is growing at a steady pace, then your brand awareness is increasing. When looking at social media metrics, it'd be easy to focus on just 'link clicks' alone, but this falls more under the objective of lead generation.
Social Mentions/Shares
Seeing how often your social content is shared, and how often your social channels are mentioned is another way to understand the attitudes towards your brand and content. If you're a trusted thought leader, then your content may be highly shared, and people will look to engage in conversations with you. However, mentions may be for negative reasons, so it pays to understand the share of positive to negative posts.
Direct Traffic
Direct traffic, put simply, is the people who are typing your organisation's web address directly into their browser's address bar. These are the people who know about your brand AND website, and know that you can supply the solution to their problem.
Search Terms
Like with direct traffic, reviewing search terms can give a strong indication of brand awareness. If a lot of search traffic is coming from people searching for your brand name, you know that your brand is in their thoughts when it comes to their solution.
Sales/lead nurturing
Sales is the end objective, so is understandably high priority, as this proves ROI and ultimately justifies the marketing approach your organisation takes. However, how your brand makes sales can make it harder or easier to track the effectiveness of your marketing efforts. If you have a full CRM system set up then this is easy.
Marketing needs to align with sales to ensure the best quality leads are passed on to the sales team, and to ensure everyone is performing efficiently together, but that is an altogether separate rabbit hole to go down. For lead nurturing, there is an overlap with sales when it comes splitting down marketing objectives. After all, they're both parts of the journey from web visitor to customer.
Conversions
Conversions are the benchmark actions on your website, which can be determined as sales, sign-ups, downloads of premium content and more. They are actions which push a website contact further down the marketing funnel.
Email Metrics
Email is a sometimes ignored but incredibly effective way of battling through the online "noise" to get the attention of your prospect. After all, most people check their email 1-2 times per day, and give it more attention/respect than spurious social posts. Reviewing the open rate will give guidance on whether you're using appropriate subject lines, and reviewing click through rate will show the effectiveness of your CTAs.
Goal Funnels
Using analytics, you can set up goal funnels, which monitor the pages and actions you would expect a customer to complete on the way to a sale or another action. In this way you can see where there is a drop-off in your process, to determine what needs amending.
Bounce Rate
Bounce rate on key pages will tell you where people are leaving your site – then you can review, amend and test the pages. Are the wrong call-to-actions on there? Did the source of their visit provide misleading messaging or context? This is what you will need to find out.
Returning Visitors & Frequency
Understanding if people are coming back to your site after their initial visit is another indication of whether the right people are coming to the site, and what's more, being given the right information. If most people only visit the one time, your lead generation needs some work to ensure people are coming back in the consideration stage of their buyer's journey.
Above all else, set your marketing objectives right from the start
The metrics above are a loose set of guidelines – they will be subject to change depending on your campaign – e.g. are you looking to:
Target an increase in brand awareness?
Generate leads through your website and blog?
Nurture leads through email communication?
When starting a new campaign, be sure you align your desired outcome, marketing actions, and key metrics to ensure a constant refinement which focusses on driving the right results for your business. Whatever your action, be sure to highlight what most accurately reflects your goals.