At 9am on Friday 27th March 2015 my fit and very healthy husband, Simon suddenly collapsed while running during a personal training session. Neil Stanley and his wife Emma called 999, and it quickly became clear that Simon's heart had stopped, after suffering a Sudden Cardiac Arrest (SCA); this is classified as a code RED 1 with ambulance response aiming to get there within 8 minutes.
The timescale is critical because for every minute that a person who in cardiac arrest doesn't get CPR and a shock from a defib their chance of survival decreases 10% per minute. If you have a sudden cardiac arrest outside of a hospital, your chance of survival is 7%, underlining why immediate action is essential.

Neil commenced CPR immediately, and one fast response car and two ambulances were deployed to reach them. Simon had his first shock from a defib within 10 minutes but had a total downtime of 40 minutes. Clinically, for a chunk of time that day, he died.
I was 20 weeks pregnant at the time and rushed to be there while they worked tirelessly to bring him back; it was the scariest time of my life. I kept saying, 'He has to be okay, this can't happen'. They informed me they where trying to resuscitate him and, and Simon was transferred to Derby Royal A&E. When I arrived, they asked me to wait in a 'relatives room', I was worried sick.
A Doctor came into the room & it was a huge relief when he said they had a pulse and output, he was with us but not out of the woods. He was placed in an induced coma and remained in Intensive Care for three weeks. They informed us that his heart was strong and working well, but prepared us that, due to the downtime he had had, the oxygen starvation would have affected his brain likely resulting in a hypoxic brain injury.
Until he came round the impact would be difficult to gauge. The doctors told us that Simon would unlikely be the person we remembered and could have a life-changing brain injury. It was an agonising time, but the main thing was that he was with us, so anything post that, we knew we could work with.
Simon spent a total of 10 weeks in the hospital and now has an ICD fitted - his very own internal defib. So if his heart ever were to go into a dangerous rhythm, he would be paced or shocked out of it. The care Simon received at Derby Royal Hospital was outstanding and the support from our family and friends was limitless.
Our daughter arrived six weeks after Simon had been discharged from the hospital, with those first six months me caring for a newborn and supporting Simon's recovery.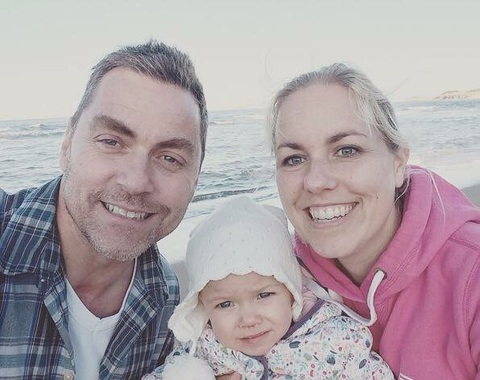 Thankfully, two years on, the hypoxic effects to his brain have been minimal. He is an Architect, running his own award winning practice, Simon Foote Architects and, amazingly, he is now back running the business and doing what he loves with a great team.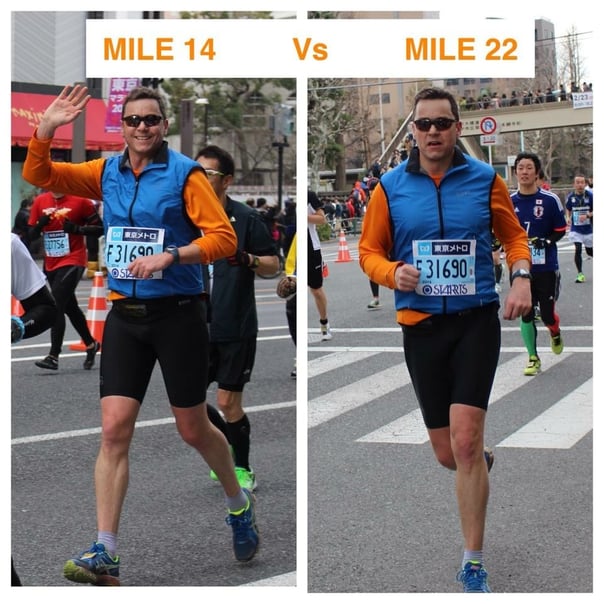 The photo is of Simon running Tokyo Marathon in 2014. He had ran a marathon most years since 2008 and used to go training running solo for hours, along quiet country roads and canal paths. We are very blessed and eternally thankful that Neil was by Simon's side that day and that the ambulance got there quickly enough. My advice now would be to always run and train with a buddy.

I would like to see it as standard, that all work places and community buildings have a defibrillator, just as they have fire extinguishers. They are both critical equipment needed in a timely manner to save lives.
Not many Sudden Cardiac Arrest's have a happy ending, so please take a moment to learn what you could do to save a life.
What do you do if someone has a Sudden Cardiac Arrest?
Call 999 and perform CPR - if you don't know how to perform CPR there are many ways in which you can get training and guidance.
CPR Guidance
CPR Training Videos
Download the British Red Cross App which has a great guide on how to give CPR. Visit the Windows Store, the Apple App Store or the Google Play Store.
Encourage that your workplace arranges CPR/Defib training and arrange a defib to be installed in your local community or workplace - look at Community Heartbeat.
What is the difference between a Sudden Cardiac Arrest and Heart Attack?
Sudden Cardiac Arrest (SCA) is caused when there is a problem with the heart's electrical activity, resulting in the heart unable to perform its vital job of pumping blood around the body. There is usually no warning that an arrest is about to happen and often no history of heart problems.
The person will lose consciousness instantly, and unless immediate CPR and defibrillation is administered, it will cause death within minutes. An SCA can occur to anyone, at any time, at any age, and it doesn't matter how fit you are.
Although a heart attack may trigger an SCA, the causes are different. A heart attack is a 'plumbing' problem caused when blood flow to the heart is blocked. Symptoms of an imminent heart attack may be experienced for some time beforehand, and importantly the heart keeps pumping, and the patient remains conscious.
Useful Support Group for those affected by Sudden Cardiac Arrest
A really useful facebook group I discovered was Sudden Cardiac Arrest UK which was set up by Paul Swindell who suffered an SCA himself. It is set up for all those affected by SCA whether you are a survivor, rescuer, partner, family member or an interested medical professional. Due to there being more defibs in communities there are thankfully more people surviving, but there is a gap in support structure post-hospital discharge, which this group is helping to address.
Katapult is currently working with Paul having branded the group, produced a support leaflet which is distributed to hospitals and currently creating his website to act as a more central resource of information.