Saturday
Saturday at Offset picked up exactly where Friday had left off...albeit with few more sore heads than on Friday! (If you missed Friday's roundup you can read it here.)
The crowds continued to fill the Bord Gáis Energy Theatre clasping the free screen prints from Damn Fine Print and extra strong coffees.
Saturday's speakers had a real mix within the industry. This included Angus Hyland from Pentagram, an incredibly charming talk from Sheffield based illustrators Tado, and Jonathan Barnbrook who shared his working relationship with David Bowie, for whom he designed an album cover.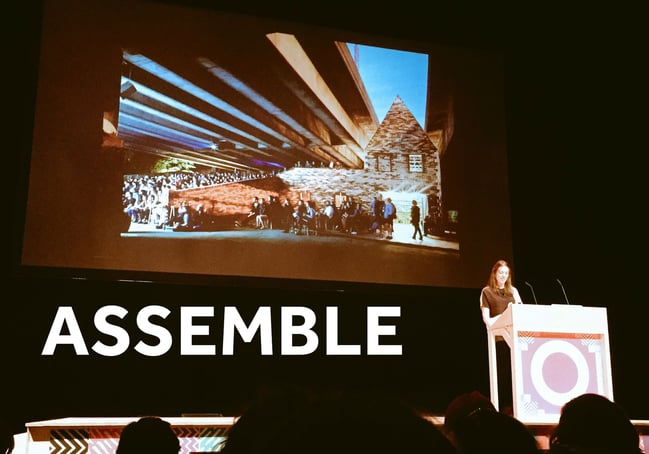 Assemble are a collective based in London, they work across the fields of art, architecture and design.
Their work on Folly for a Flyover, has been recognised most recently on a lot of design blogs. The project involved turning a desolate area like the underneath of a flyover into an incredible arts venue and new public space. Other projects included Granby Workshop where by using old and broken bricks and tiles, new and beautiful products such as fireplaces and furniture could be made.
I found their work stunning but also their interpretation of a brief and what it means to inhabit a space quite interesting. It gave me food for thought in terms of how I can apply this thinking for retail and exhibition design.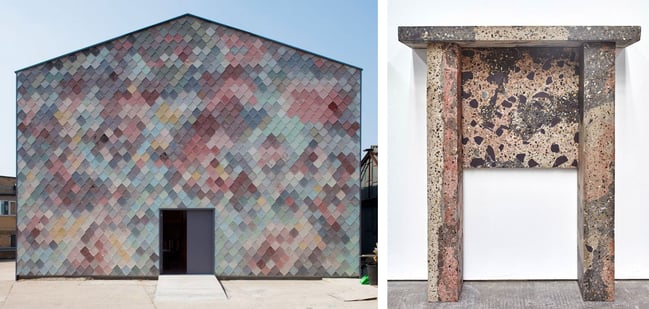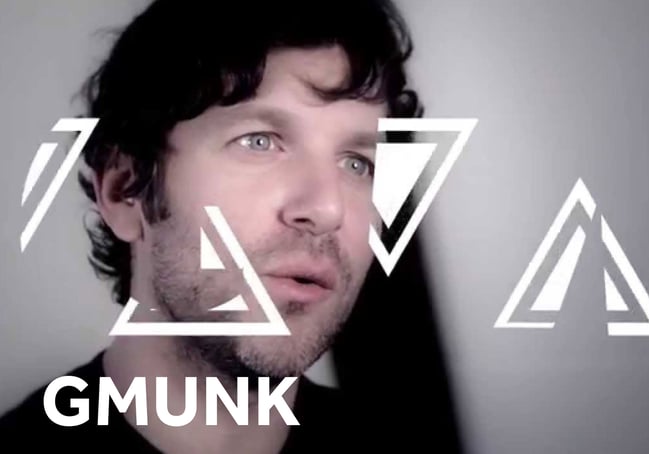 @gmunk
A visionary who's creativity and innovation transcends all platforms, Bradley Munkowitz graced the stage, in what appeared to be a nervous manner… What followed was probably the most spellbinding display of creative ambition and hard work I have ever seen.
Gmunk's energy and enthusiasm for his work oozed through his presentation as he displayed hit after hit of gorgeous motion and still projects. His clients include Adobe, Windows, Samsung, Audi and Adidas.
Through his '8 Pearls' he describes his 'can do' attitude towards each project and desire to constantly push himself to the next stage, taking on new challenges within motion design, direction, 3D illustration and even projection mapping.
Unsatisfied with his awesome digital display work for films such as Tom Cruise's Oblivion and the legendary Tron, Gmunk pushed himself to find his next big thing and through truly admirable amounts of dedication, he taught himself motion skills and pushed himself into the realms of feature films, commercials and music videos.
Through self initiated work, he gained more and more professional work, showing how constantly trying to evolve and improve yourself will pay off. Through his Pyrad Inspiration project Gmunk eventually went on to use similar techniques within the Samsung S6 launch as well as projects for Adobe and Windows.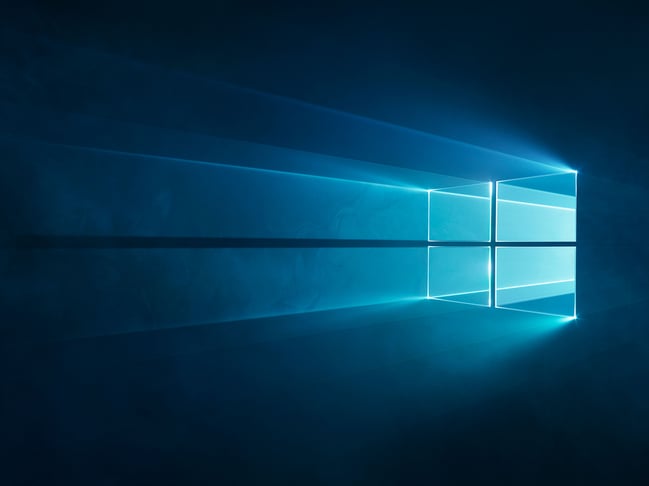 Gmunk went on to explain how collaboration was an important factor in learning new skills and techniques, and also in creating some incredible visual masterpieces, taking 'Box' as an example, using projection mapping and an incredibly sophisticated dolly arm to create mind-blowing digital spaces.
There wasn't a person in the building who wasn't inspired by Gmunks unfaultable dedication to his work, he credits collation of useful reference materials (for example his Pinterest) and his constant hunger to reinvent himself as a designer.
He is a must watch when the videos are released on the Offset Archive site.
Sunday
The final day arrived and as sad as it was that the conference was coming to an end, the final line up was really exciting. Andy Ristaino, a character illustrator for the show, Adventure Time, shared his impressive illustration skills and, like Gmunk, his compulsive commitment to his craft.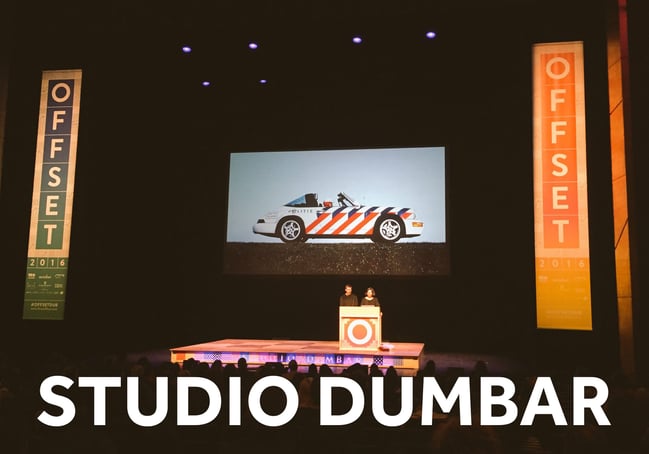 Studio Dumbar, a Dutch based design agency shared with the Offset crowd some of their bold branding projects, including their famous Dutch Police rebrand which I can't describe in any other way than, pretty damn cool.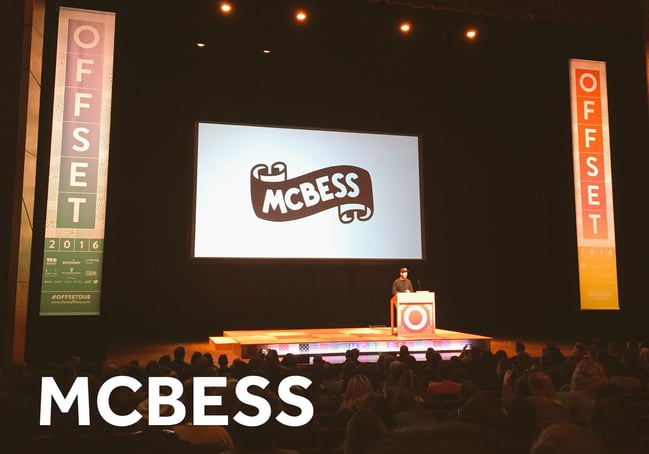 @mcbess
McBess is a French illustrator and animator living in London. His work is renowned all around the world, most famously his work with Berlin based clothing brand, The Dudes (which is the epitome of cool.) His work is incredibly detailed using only pen and Photoshop and is only in black and white. Each dot and image is painstakingly made in order to produce his visual masterpieces.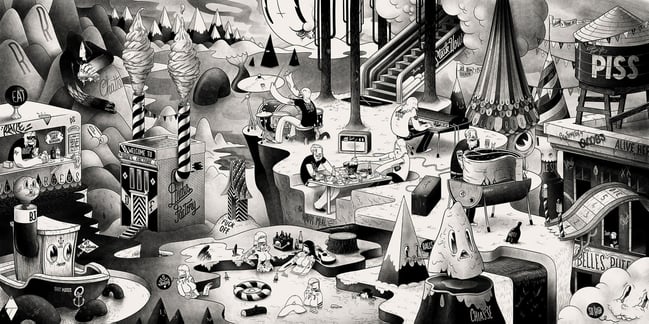 It wasn't just his effortlessly cool illustration style which was impressive, his commitment to evolving his work onto different platforms has propelled McBess into different areas of the creative industry, including music, video, animation and illustration, for both print and digital.
Once again, this shows how commitment and hard work can propel you into different opportunities. For someone who was already was a fantastic illustrator, it was refreshing to see them not be settled and have the desire to better themselves, a sure fire way to inspire the room full of jawdropped Offsetters.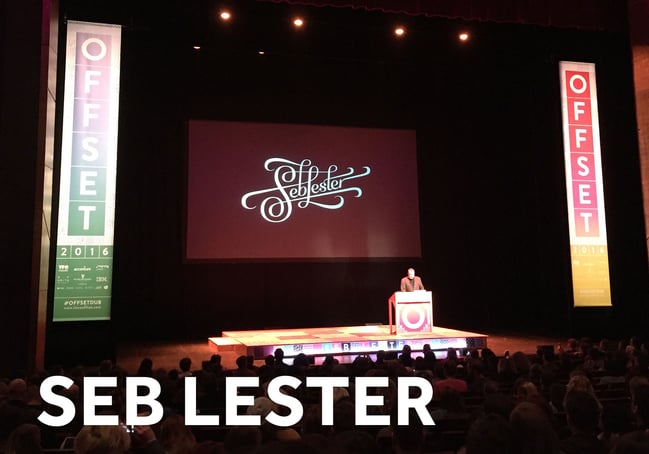 @seblester
Seb Lester has rocketed to fame recently through his social media viral frenzy last year. A master calligrapher, type designer and letterer, Seb shared his career history (and messy desk space, which I was glad to see!) in an honest, humble and great talk.
If you are familiar with typography, it really isn't an easy skill to pick up, it takes hours/days/months/years of frustrating practice and Seb's patience and continued commitment to the craft earned him a logo on a space ship… An interesting example of 'if you don't ask, you don't get!'
Through an interview on US TV Seb mentioned how much he would have liked to design a logo for a space rocket and if anyone from NASA would be interested to get in touch… and they did!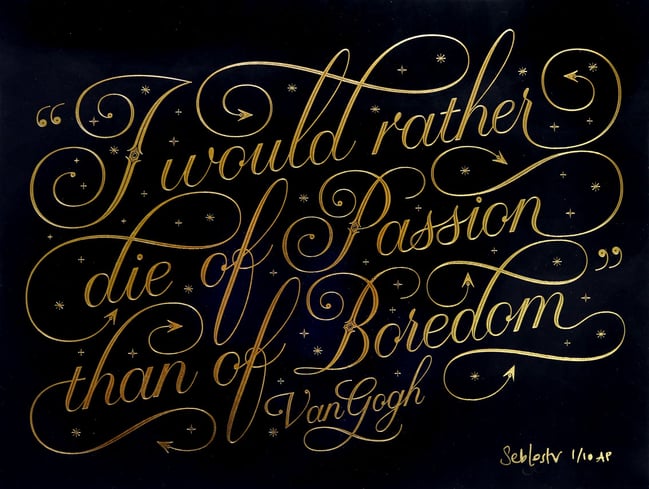 Through a love and a passion of what he does, Seb, who came across as a very shy and retiring type when I met him afterwards, has propelled himself into the limelight as one of the most talented typographers of this generation. The internet does make the world a very small place indeed!
All in all...
Did I enjoy Offset? I did indeed, being able to sit and be blown away by some of your design idols and shake their hand and have a pint with them later at The Ferryman pub was a great experience.
I don't doubt that many people walked away from The Bord Gais Theatre incredibly fired up and inspired. For young students and professionals alike I believe is in an invaluable experience to have attended and I look forward to attending again. Well done Offset!
Fancy taking a look at some of the creative work that we do at Katapult? You can download our design case study pack here.