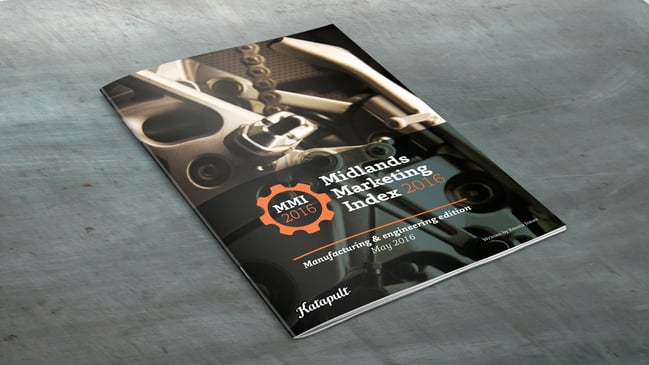 Three Midlands electronic manufacturers have made it onto the Midlands Marketing Index for the first time, receiving high praise for their marketing strategy in 2015/2016. SMS Electronics, Codel Monitoring, and Guidance Marine, all made the top 50 ranking alongside an array of high profile manufacturing and engineering firms.
The Midlands Marketing Index aims to draw attention to examples of excellent digital marketing practice with the manufacturing and engineering sector as a whole. By taking into account a cross section of different industries, the top 50 ranked firms based on their website traffic rank, indexed pages, link authority, blogging, mobile optimisation, and other digital marketing statistics.
Below we've taken a deeper insight into the three different strategies used by Codel, Guidance, and SMS Electronics to see what good practices other electronic manufacturers can implement into their marketing strategy.
SMS Electronics

Location: Nottingham
Top 50 rank: 23rd
Marketing grade: 62/100
With big plans to become the leading supplier of electronic assembly products across the medical, industrial, military, and science sectors, SMS Electronics ranked a respectable 23rd in the Midlands Marketing Index Top 50.
As a result of their high number of website linking domains and indexed pages, SMS Electronics have a strong online footprint and was the highest ranked electronics manufacturer. Their blog content, although infrequent, is written with their target audience in mind, benefitting their organic website search and engagement with potential customers.

However, the SMS Electronics website is not mobile optimised, which delivers a poor user experience to mobile users, and could also be significantly damaging their search rankings.
Tip: Other electronic manufacturers should follow their lead when it comes to writing educational blog content. These blogs are helping to build rapport with their potential customers and show authority in their specialism.
Codel Monitoring

Location: Bakewell, Derbyshire
Top 50 rank: 31st
Marketing grade: 62/100
Specialising in continuous emissions monitoring systems (CEMS), Codel's products are distributed globally to monitor emissions and pollution in road tunnels, power plants, and in the rail industry too.

Ranked 31st, Codel's website is well optimised for use on all devices, but more importantly, the layout of their content is very well thought out. Split down by process, application, and product type, their category of products and services is very easy to browse – offering a clear and navigable user journey.

Codel could significantly improve their online presence and chances of getting found by relevant prospects by setting up and maintaining an industry blog. An effective blog should include frequent, keyword focused posts, written with your audience and their information needs in mind. That way, when prospects are searching for answers to problems online, your keyword centric blog post will appear in organic search results. Blogging is also a great way to position your brand as an expert and trusted advisor in the industry.
Tip: Offer a clear navigation for website visitors to browse your products and services easily. Failure to offer the right information on the right pages could lead to website visitors never returning to your site or getting in touch about their requirements.
Guidance Marine

Location: Leicester
Top 50 rank: 42nd
Marketing grade: 57/100
With bases in the UK, USA, Brasil, and Singapore, Guidance Marine are the leading global developer and supplier of dynamic positioning measurement technologies for high-value offshore marine markets. Ranking 42nd in the Index, it was the company's mobile responsive site that got itself a place in the top 50.

The whole Guidance website is very well optimised. Making sure that your website offers a good user experience on mobile devices as well as desktop is vital – especially as more and more B2B decision makers are using smartphones and tablets to search for products and services. Responsive website templates automatically re-structure and 'stack' content to suit the size and layout of the device the website is being viewed on, something Guidance excels at.

Despite a well-optimised website, the low number of linking domains may impact their SEO rankings. Guidance needs to build more links back to their site from authoritative domains. Guidance could also utilise social media to drive more traffic to their website – something they do not partake in regularly.
Tip: Work with your web developer to design a website that is 'responsive'. This effectively means that no matter what device a visitor browses your site on, it will always look great and work without any glitches.
To browse the top 50 Midlands Marketing firms in detail, and see what other best practices you can take into your marketing strategy, download the manufacturing and engineering index today.