Back in August, we announced that we'd been awarded Silver tier HubSpot certified agency partner accreditation, the first milestone in our ultimate goal to becoming a world leading inbound marketing agency.
For those of you who aren't familiar with it, HubSpot is an inbound marketing software platform that helps companies attract visitors to their website, convert them into leads, and close them as customers.
About HubSpot's partner program
HubSpot run a tiered program for their agency partners highlighting those who have effectively brought the inbound message to their clients and executed inbound marketing to the highest of standards.
You can find out more about HubSpot, their partner program and how we became a certified agency partner here.
Going for Gold!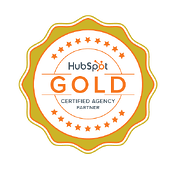 Our appetite for success didn't stop at achieving silver tier accreditation, our goal for the end of the year was to get to Gold. We are delighted to announce that this week we received official confirmation of our Gold Tier HubSpot certified agency partner status.
Our Gold status was judged by HubSpot using a number of metrics, including: monthly recurring revenue, customer retention and actual inbound marketing success. It's thanks to the exceptional hard work and creative input from the entire Katapult team that we've been able to achieve this exciting milestone.
New members of the team
The inbound team at Katapult is still growing, our new inbound account manager, Esther Akers joined us last week, and we are currently recruiting for another Digital Marketing Executive.
Could HubSpot help your business?
We'd like to think so! We've found inbound marketing to be a very effective method of generating new leads and sales, both for ourselves and our clients. If you'd like to find out more about inbound marketing, HubSpot or how we could help you achieve your marketing goals, please get in touch. Drop us an email, call us, or why not even tweet us.