Every year the show attracts in the region of 32,000 industry professionals to one of the biggest events since IAAPA began hosting the three shows around the world. There were representatives from 120 countries at the four-day show to experience the future of the global attractions industry, which is worth $39.5 billion. I was particularly proud to see the UK businesses in force - around 28 exhibitors overall. Here are a few that stood out for me.
Jolly Roger (Amusement Rides)
I viewed Jolly Roger's website before visiting the show and really liked the photography and design style of their website. It is a clean design and showcases their products beautifully. I was keen to see what the products looked like in the flesh and I wasn't disappointed, this just shows how important it is to keep your website in order.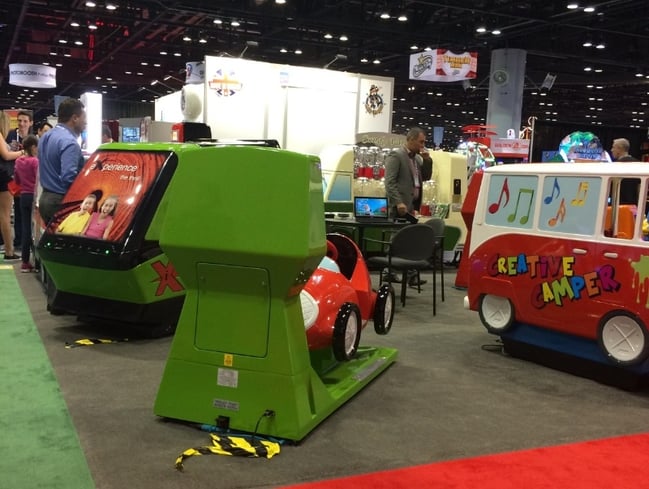 People's natural curiosity to research as part of the buyer's journey is a vital consideration for developing your website: While Jolly Roger do a great job of displaying their products, some of the functionality of the site is clunky and confusing. Improving this would help to progress buyers to the next phase of their decision-making process. Broken links and out of date news will only draw people away from your site so ensuring it is up to date is also important.
The Juice Films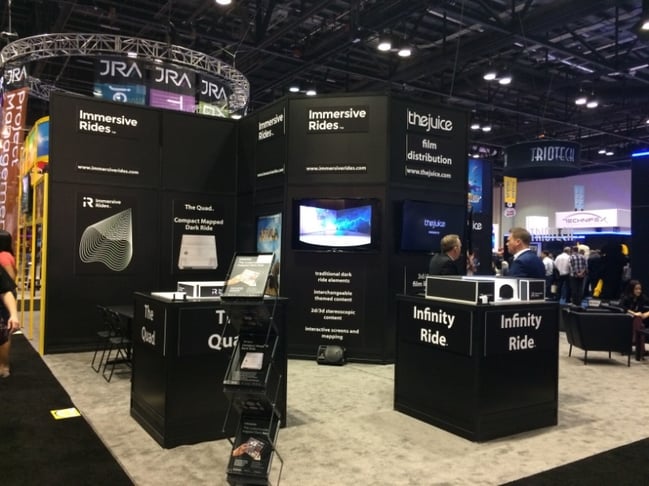 The Juice's stand had great impact, and immediately you understood what they do, the messaging is very clear and on-brand. The open style of the stand made it welcoming and, of course, James and Pauline's smiles contributed too! The use of screens brought the stand to life and was perfect for showcasing the work and projects produced.
Innovative Leisure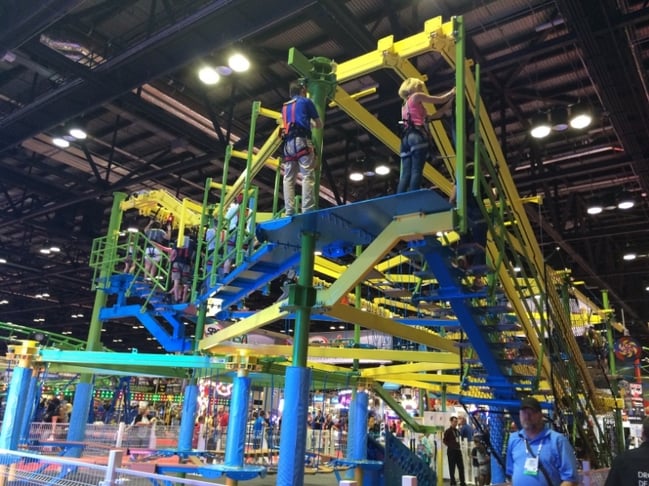 It goes without saying that the more interaction you can drum up on your stand, the better, get your visitors involved and trying out your products, and you're on to a winner for making their visit memorable. Innovative Leisure (who exhibited with their US based partner Rope Courses Inc) do this so well. Obviously their products help tremendously, and it's not always possible to have a presence of this scale but it drives a large amount of activity to your stand with all the hustle and bustle that gets everyone curious.
Elton Amusements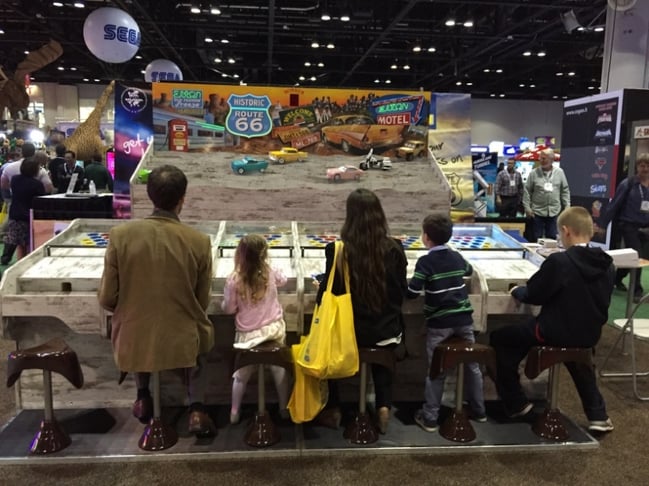 Elton Amusements also had a great presence showcasing their Derby Games, which generate such excitement for players and spectators alike you just can't help get involved. Their effort was recognised at the 2015 IAAPA brass ring awards; honouring the industry's best & brightest. Elton Amusement's Derby received an award in the Games & Retail category and their Kentucky Derby at Grona Lund Sweden won Best game experience.
So to sum up…
Align your physical and digital presence to ensure visitors have a seamless and integrated experience with your brand.
Make your stand eye catching, engaging and memorable to drive footfall, engagement and leads.
Ensure your digital assets are up to scratch – as an integral part of your prospects' decision making process, your website and communication channels should work to move prospects through the sales funnel from visitors, to leads to customers.
Download our best practice guide for exhibiting at leisure industry trade shows and learn how to improve your presence for 2016.