Viewers of Soccer AM; Sky's Saturday morning football show, may recognise the sporty contraption above. Crazy Catch is the ultimate rebound net, used by professional sportsmen and sportswomen around the world to hone their skills, although England international footballer Peter Crouch certainly found it a challenge!
We were delighted to be approached by the UK distributors of Crazy Catch earlier this year, to discuss what we could do to raise awareness of the gadget - beyond the television screen. With a clear marketing campaign in place, as well as sporting 'ambassadors' to rely on, we set out about building a Christmas marketing campaign together, to see what we could achieve.
Starting with a concept...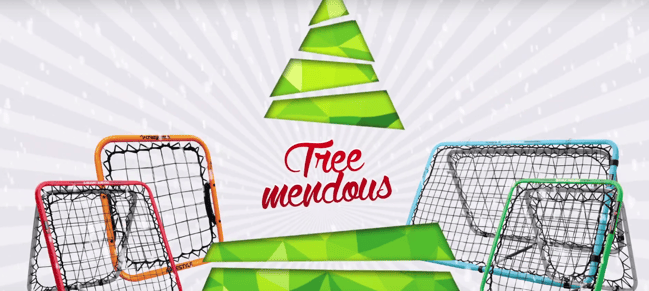 The project began with identifying the concept of getting current Crazy Catch owners to share their skills with their existing equipment. Third party endorsement of any product, of course, is a brilliant way to gain brand awareness and sell more stuff.
Crazy Catch UK has already secured sporting ambassadors that have promoted the range of equipment on their behalf. This includes through the very powerful medium of the professional sports person's social media accounts.
The concept also wanted to embrace these ambassadors for the Christmas campaign, to stimulate Crazy Catch owners to share their videos, and also raise awareness of those who haven't seen the product before. It was to be called #Treemendous.
Building a base...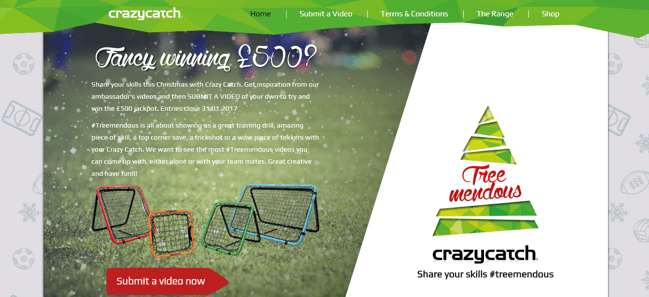 With a prize of £500 for the winning video entrant agreed, we began building a base to promote the campaign and host entrant's videos on. So, we built a microsite for Crazy Catch UK.
We made the microsite festive, gave clear competition details, and ensured that all web visitors had the chance to view the product range, as well as see the video content that people entered into the competition.
To stimulate the campaign further, and encourage greater engagement, we also added in sharing buttons, so anyone can share their favourite entrant video, as well as having the chance to vote on their favourite.
On to the ambassadors...
With close relationships with their ambassadors, Crazy Catch UK was able to get some great video footage of a select view introducing the competition - as well as showing off their skills too. This enabled our brilliant Adam Davies, to take to the stage and perform Christmas miracles on the video footage.
Using a combination of animation techniques, and Christmas puns supplied by me (sorry!) and the rest of the team, Adam began to build the videos featuring GB Hockey star and Olympic champion Maddie Hinch, former England cricketer James Taylor, 2003 World Cup-winning rugby player Will Greenwood and many more sports stars.
Here's cricketer James Taylor in action...
Let's get sharing...
With videos of each ambassador being rolled out on a weekly basis, it is important for any digital campaign to make use of the social media streams they have available. Equipped with festive videos, the Crazy Catch UK team have gone on to do just that!
Through Facebook, Twitter and Instagram to their thousands of followers, they have posted the videos and received likes, shares, retweets, comments, and lots of engagement to help spread the word of the campaign.
They have also cleverly used their ambassador's social media accounts to post the videos - just like the one below from Maddie Hinch. As I mentioned earlier on, there's nothing better than third party endorsement for a product!
The results so far...
The campaign so far has worked brilliantly. The microsite has seen entrants submitting their skills, and the ambassador's videos are collecting views and likes on a daily basis. A wonderful awareness campaign to work on for the Christmas period.
I couldn't leave the blog without showing you my favourite video of the campaign to date! As a footballing man, you'll understand why I've chosen the #Treemendous Tekk Squad video...
For more videos from Crazy Catch UK, take a look at their YouTube channel - I promise you, you'll be glued to the channel for hours! Merry Christmas and a Happy New Year.