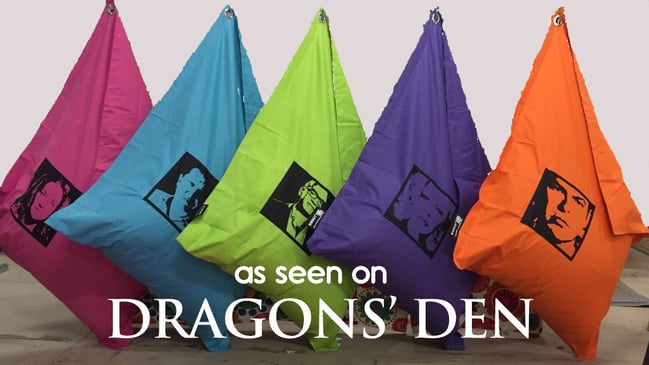 It was a Sunday afternoon, and after flicking television channels for what seemed like hours, I settled down to watch Dragons' Den. A television show I've not watched in years, but one that still stirs the pool of curiosity in my mind.
Regular Dragons' Den viewers will understand that this Sunday afternoon episode I watched was the first in the newest (but repeated) series, as more firms pitched for investment and expertise. One pitch caught my eye from Bigboy Beanbag, a family-owned company which sold big bean bags.
A successful start-up
Mark Yewman, a market trader in just eight years had managed to sell 24,000 units of his big bean bags which are waterproof, machine washable, UV protected, keep users cool on a hot summer's day and comes with a 10-year guarantee. A fantastic achievement.
Mark, with support of his two children, entered the Dragons' Den in search for £75,000 investment in return for 15% of his company. The pitch went smoothly, the Dragon's enjoyed trying out the big bean bags for themselves, but unfortunately, it wasn't enough to win investment this time around.
You've done an appalling job...
As well as not wanting to invest in a 'family business', one dragon, in particular, Nick Jenkins, was concerned about the company's lack of digital marketing strategy. The founder of Moonpig.com said in the pitch, "You've done an appalling job of selling them online".
Harsh words, but was it true?
My inner curiosity got the better of me, and I spent the rest of Sunday assessing their current digital performance. Here is what I found...
The website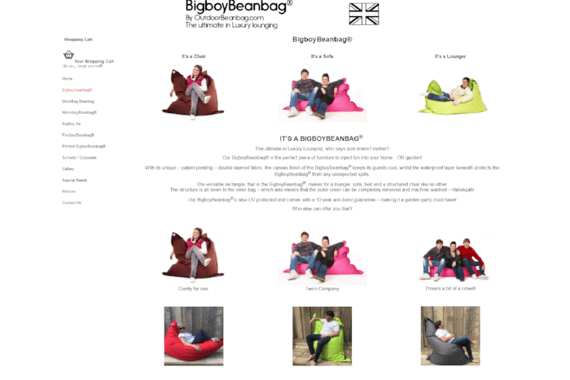 User Experience
The website is basic in style, but it is their customer journey that requires a little more thought in order to boost sales. For example, when users land on this product page, you'd expect to be able to click on the image, and that would take you through to another page where you can buy it. Instead, by clicking on the photo, you get an enlarged version of the same photo!
This creates a negative experience, increasing the chance that the website visitor will find it too hard to purchase, ultimately leaving the site. Combined with being able to pay only by PayPal means users may be put off buying the product too.
Technical performance
The website's page speed is slow and page requests take a long time to come through. What does this mean? This means that users are waiting to see the content which is potentially putting them off from buying from the website.
The biggest issue I've spotted is that the website has no SSL certificate. An SSL certificate protects websites from attacks and gives visitors confidence that a site is authentic and trustworthy. For a single product selling vendor, it is important to have this in place, to give reassurance and protect the brand too.
The social media
Selling products online can be made so much easier with a clear social media plan. It was initially really hard to find the social accounts for BigboyBeanbag as they weren't featured on the website. Once I did find them, however, I found they had a presence on Facebook, Twitter and Instagram.
All three accounts, while featuring some good posts around the exhibitions they were attending, were failing to hit the mark. Instead of creating a demand for the product by showcasing lifestyle photos, they have been sharing photos that are personal to them, individually.
Their social media accounts also need standardising with the same account images and descriptions - this will again create a trustworthy brand and make it more genuine to the potential customer.
What else could they do?
Social media advertising
Aside from improving the website and social media channels, BigboyBeanBags should definitely look at doing some social media advertising. The repeat episode of the product that was on Sunday 21st May was a perfect opportunity to do this as well.
Through Facebook, Instagram and Twitter, they could have used the advertising portal to target those watching Dragons' Den, as well as those who are more willing to buy the product. Through a combination of lifestyle photos and product videos, they could have maximised their brand's outreach during the airing of the show to maximise sales.
The firm could also use advertising to target attendees that will walk past their stand at the next exhibition they go to.
Influencer outreach
As well as getting to work on creating some clever press releases for the online media outlets to pick up on, they could also look to strike more partnership deals with resellers of furniture. There are many bean bag products on the market currently, and probably none as good as BigBoy.
But due to the lack of presence of BigBoy on the main reselling websites, such as Amazon, they look like an inferior product. By getting on reseller websites, this not only gains loyalty amongst prospective customers, but also helps to sell more units too.
Digital marketing strategies help
B2C products have never been easier to sell to your target market. Through a combination of a slick website, slick social media, and clever digital advertising strategy, Bigboy could achieve even more success beyond the £2.7 million revenue they've already achieved.
Could a clear digital marketing strategy help to secure the £75,000 investment in the Dragons' Den? Probably, but all I know is that a little concentration on the digital marketing for any product, service or business can make a huge difference to the bottom line of a business.
If you think your digital marketing needs tweaking before entering the Den, you know where we are.
Photo Credit: BigboyBeanbag