Everyone, at some point, has come across an Olly Moss design, whether it's his own work or someone who has been influenced by his style. His clever, witty and eye-achingly good illustrations have been on most designers' radar and he continues to knock it out of the park with each project he approaches with his clever execution of a much replicated style.
Early Career:
A fan boy who has truly made his mark on the design and illustration industry, he started his design career designing t-shirts for Threadless competitions and he shows how hard work, integrity, commitment and truly enjoying what you can do, can build a successful portfolio.
Through his many failed attempts at producing print worthy designs for Threadless, Olly learned very early on that concept was key. After a lot perseverance and resolve many of his t-shirts won and continue to sell well on the popular site.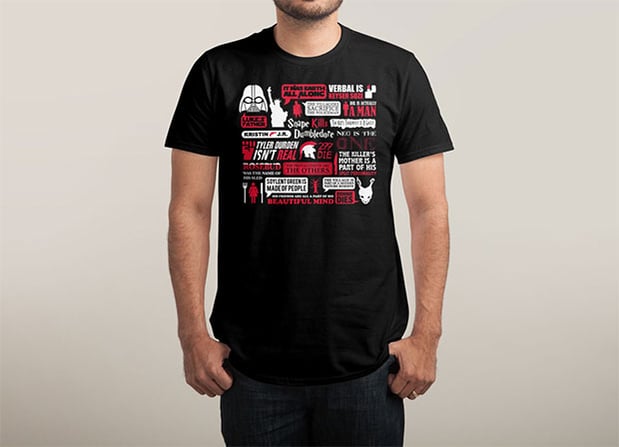 Poster Prints:
From there, Olly moved on to poster prints. His fanboy attitude towards developing clever and cool graphics that any film or video game buff would love to have displayed on their walls, earned him a reputation early on. His minimal style and clever use of negative space has since been mimicked many times by other budding designers.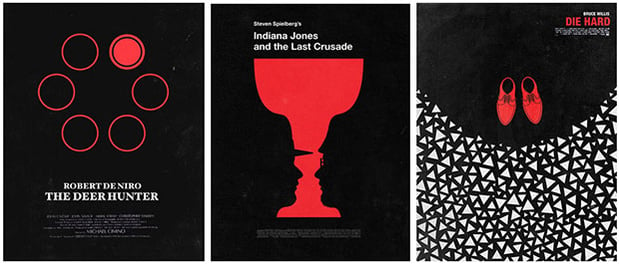 Many of his designs have become classics and through short run prints, extremely hot property. His most iconic prints, and where I first became aware of Olly, are the Rolling Roadshow prints for Levis/Mondo in 2010. My favourite being the Dirty Harry poster, where by Harry Callaghan's infamous Magnum gun also being part of his face.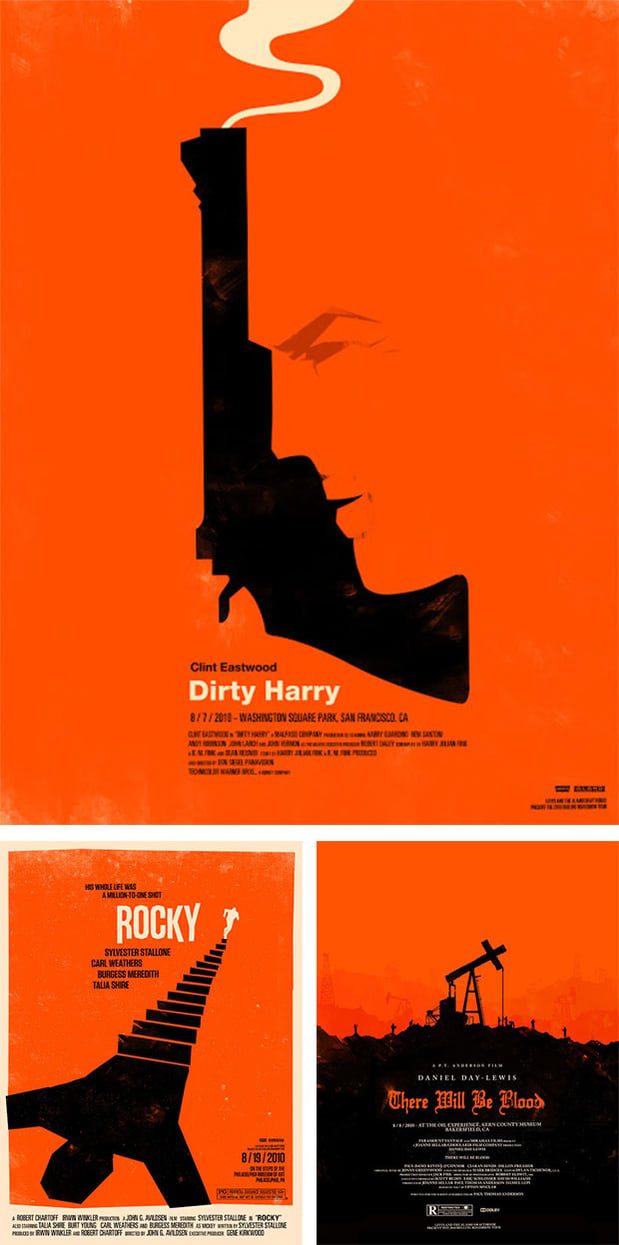 As his reputation grew, Olly picked up more work with Mondo gallery and iconic shows and movies such as Lost, The Evil Dead and American Werewolf in London.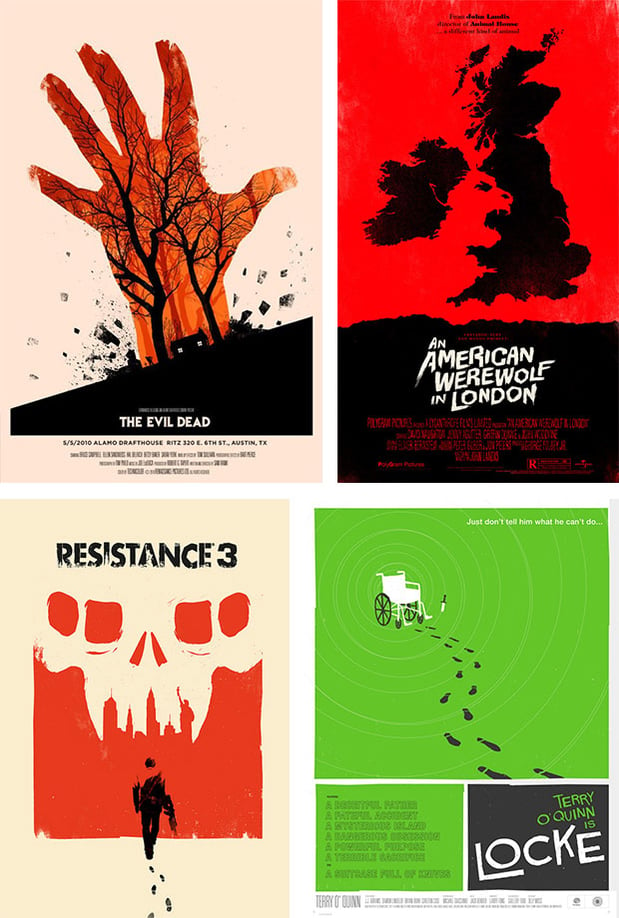 Then, the call came, which every fanboy designer dreams of, Lucasfilms called. Olly was commissioned to design three limited edition posters for the Star Wars films, which he has since become best known for. The posters use his negative space style to reflect certain elements from the three films.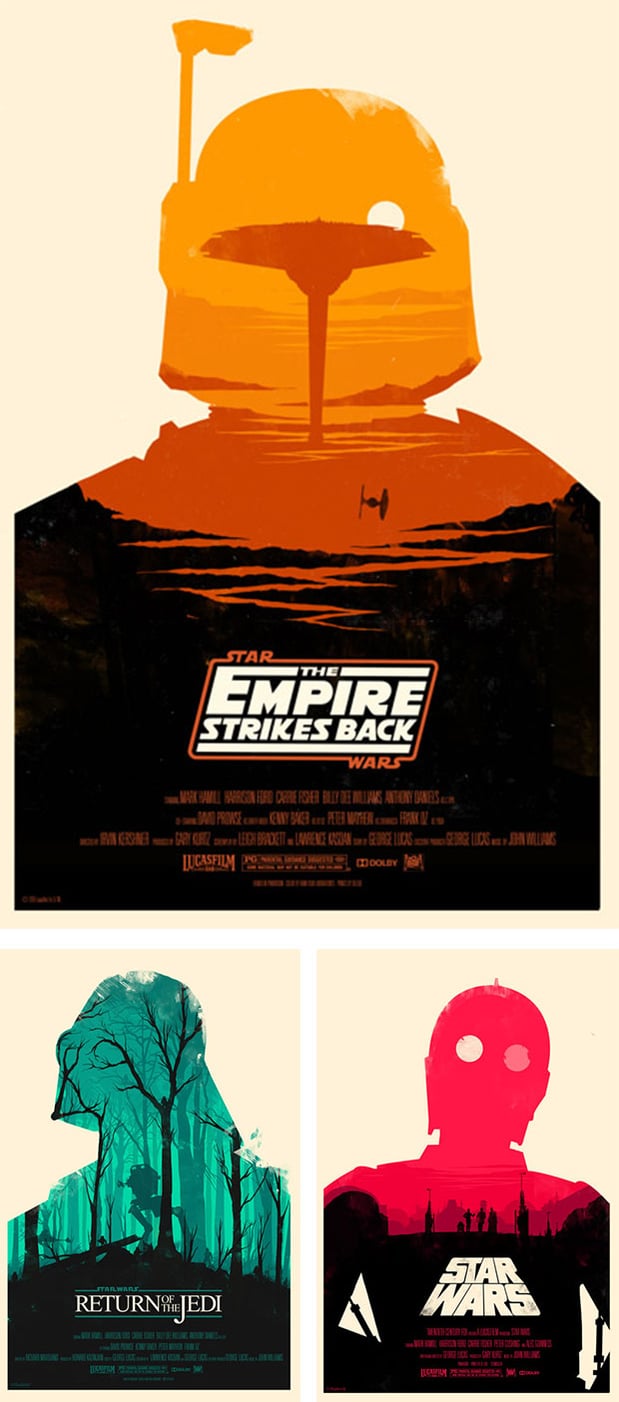 Paper Cuts:
In 2011, Gallery 1988 awarded Olly with his first solo exhibition, Paper Cuts. Silhouettes are a common element in a lot of Olly's work, and for the exhibition he decided to showcase 300 different cuts of characters from popular culture.
Using his tongue in cheek sense of humour, each silhouette reveals a key element to the character's personality. My personal favourite being Bruce Willis' character from Die Hard, John McClane, where the frame's glass has been broken to reflect some of the scenes in the film. You can buy a book which shows the pick from the exhibit.

More recently there has been an explosion of minimal posters, and since then Olly has tried to evolve his style as you can see in his more textured work for his clients.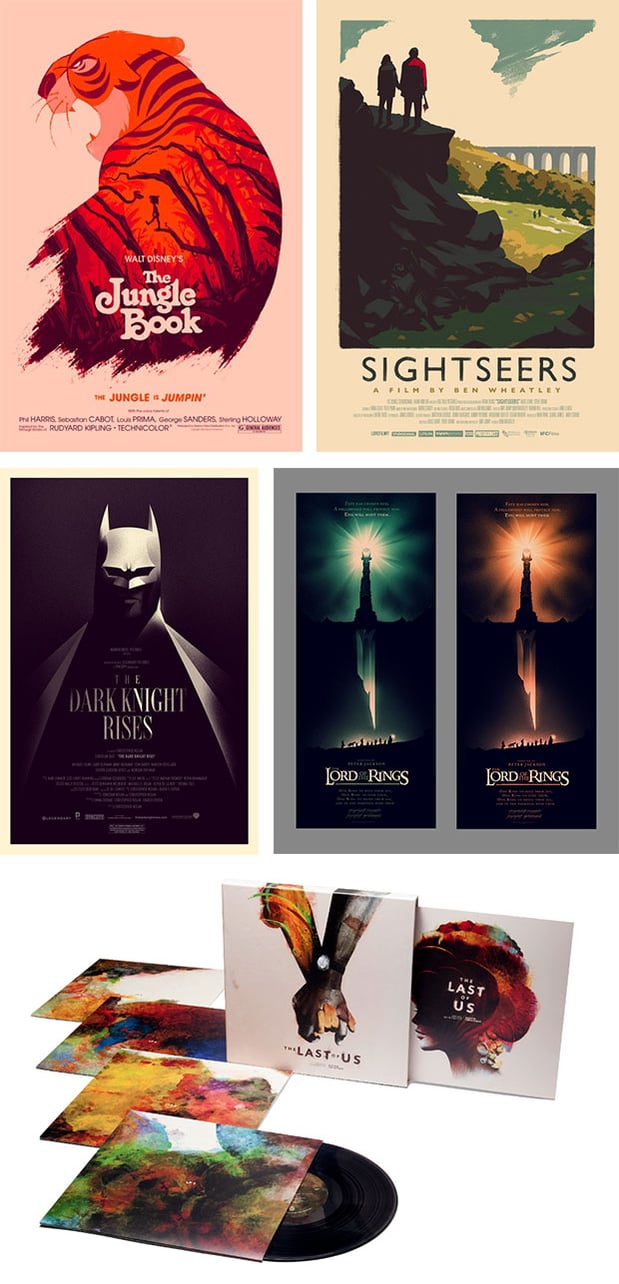 Video Games:
In a totally different direction, Olly is currently working with Campo Santo on 'Firewatch' a video game due for release this year. You can see his influence in the backgrounds and textures for the game which is visually stunning. You can watch the trailer here: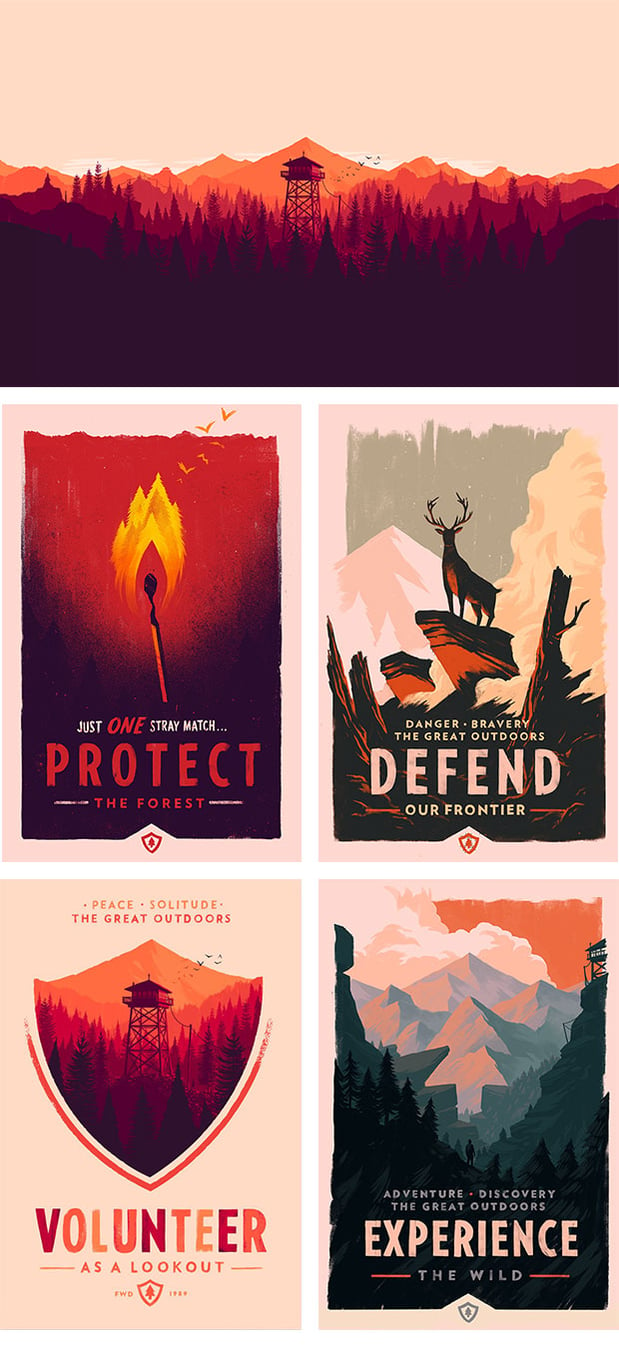 One of the elements, aside from Olly's visual style, is his sense of humour, which comes across in both his side projects and social feed.

From side projects of limited prints such as the 'Minis' or just a comical responses to a random question on tumblr or his blog, you can tell he has had fun concepting and designing it all.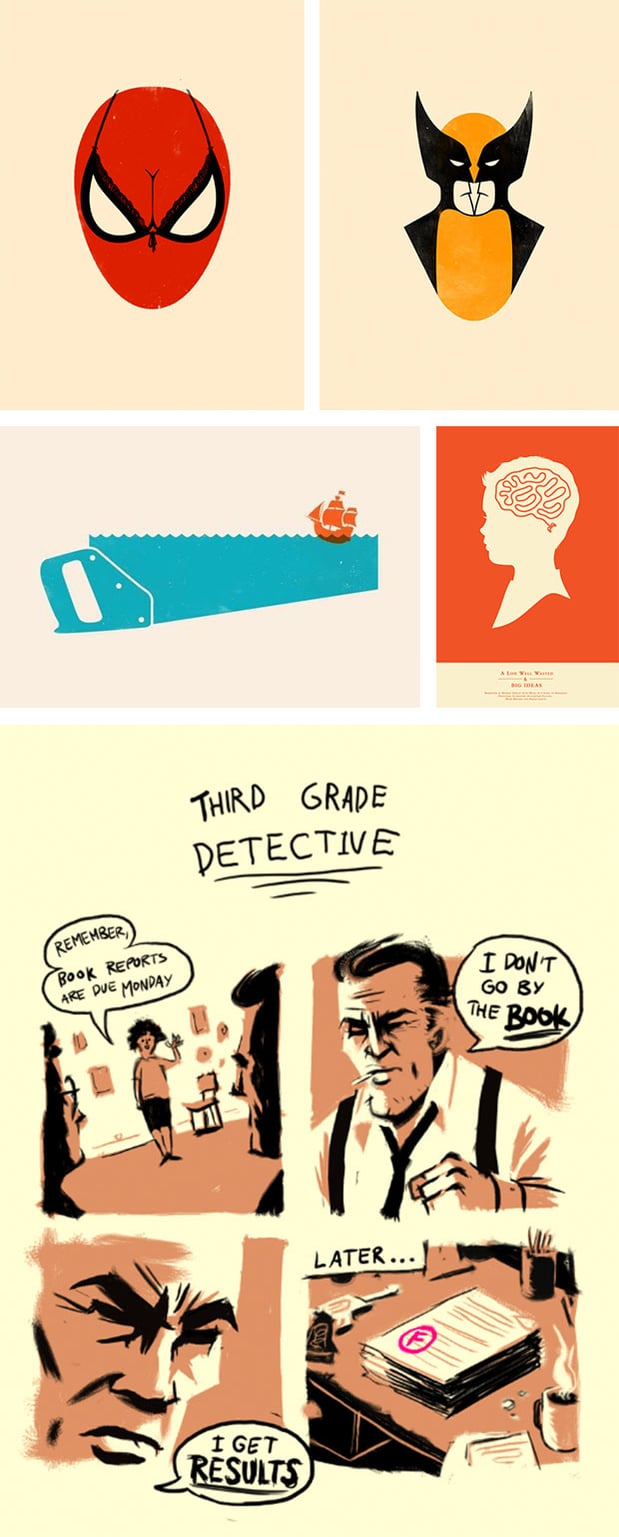 For me, Olly is a prime example of 'Do what you love. Love what you do.' His love of film and games is prominent in his portfolio, but also his development into the designer he is today is evident in the range of work he has produced up to date, but with the same values throughout. Concept, execution and enjoyment.
You can find Olly's work here http://ollymoss.com, Tumblr http://www.moss.fm/ and Twitter https://twitter.com/ollymoss