When tasked with creating a new brand identity, or a brand refresh, it's all to easy to rush into the design phase, grabbing your pencil and start sketching.
But, there are a few steps, that need to be considered before this if you're wanting the stand out that your brand needs and deserves. In this blog, I will walk you through the steps needed to give you a well rounded brand design.
"Brand/Branding –
A brand is a representative image that creates an emotional response to a company and it's products and services."
Strategy and brief
There's nothing worse than setting off on a journey, and not knowing where you're going. It's the same feeling when you start a branding project without having a strategy and brief for the project.
Without a strategy to tell you what the brand's values, target audience or positioning within the market will be, you have nothing in which to gauge how successful any subsequent design concepts are, and all feedback will become subjective. Work out a good brief and agree this with your team or your client.
Do your research
Now that the first step is out of the way, it's time to research competitors and how/where your brand will sit within it's respective market. Doing so will make sure that you aren't duplicating another brand's identity (much like the Tokyo 2020 mishap).
This research will help you make your logo distinguishable enough to not get confused with other brands. When doing research your many themes will become apparent when looking at a particular market; for example, beauty products use soft pastelle colours whereas coffee brands might use more earthy colours to give the logo a natural feel.
All these lists will help with making more informed decisions when designing your logo.
The Logo
"Logo – A visual element which allows users/customers to discover and remember a company's brand. Logos are normally an icon, logotype or combination of the two. "
Step away from the mouse, I mean it. Step away from it now. Pick up that pencil and get sketching and making notes first. It will make all the difference.
By sketching first, you will be able to explore ideas and generate new avenues from those previous sketches alot quicker than generating it all on a computer.
You can start by just writing out the name of the brand; uppercase, lowercase. This will help you get a feel and help drive those ideas. You can then start exploring the type of fonts and the weight of them.
These sketches will help open up all the different ideas when creating the identity. Designers will often sketch out fifty or more different options, getting their ideas down quickly on paper before even touching a computer.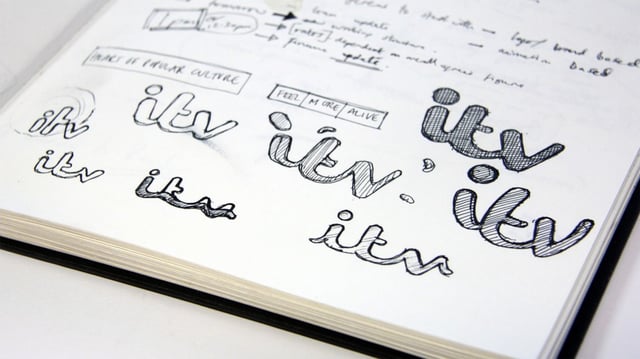 The computer can then be used to refine the better ideas, experimenting further. Thinking about how the logo will be seen is also a good idea, as it's not always just seen on it's on, the context needs to be thought about. Whether it be as part of a letterhead/business card, uniforms or even for vehicles; it's something that needs to be considered.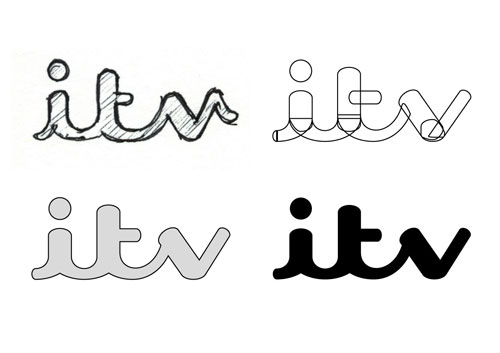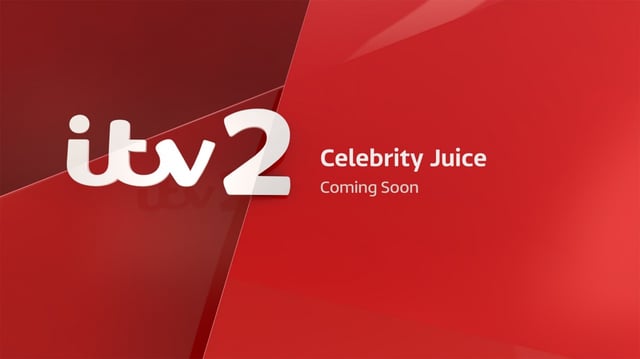 The Identity System
"Identity (system) – The combination of the logo, other visual elements and brand guidelines to keep the company's image has consistency and unity."
Now that the logo has been sorted, the identity system can considered. The identity system is the how all of the smaller elements work in unison. The overall picture has to be considered when desigining the identity, don't focus on every seperate element, but instead how they work together.
A good example of how an identity system can work well is the Marou branding by Rice Creative.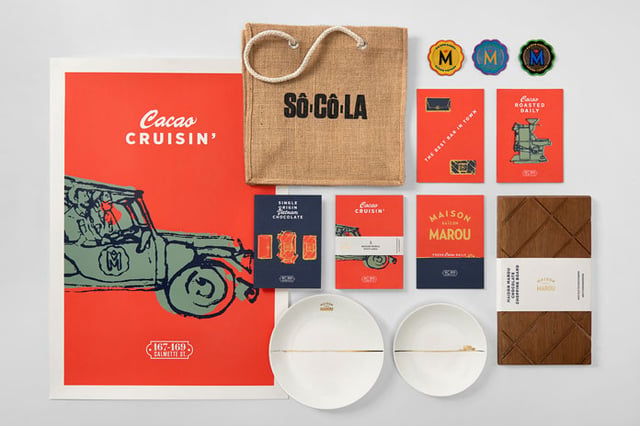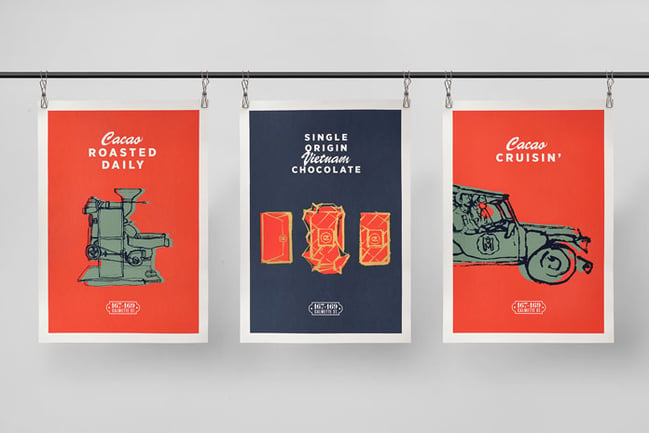 The Guidelines
"Brand guidelines (Also known as Brand Style Guide) - A set of rules on how to use design elements when creating brand materials. This is to ensure a strong and consistent forward facing brand."
Brand style guidelines are essentially a document for your brand design development that shows people how to effectively work with the brand and how to display it to the wider audience. The brand design guidelines can help enforce rules put in place to help keep the brand consistent and true to the brand's vision. The topics normally covered in the style guidelines are key values, tone of voice, logo usage, colour palette, typography, imagery/graphics and examples of how the brand is implemented across various mediums.
Here's some nice examples of brand guidelines: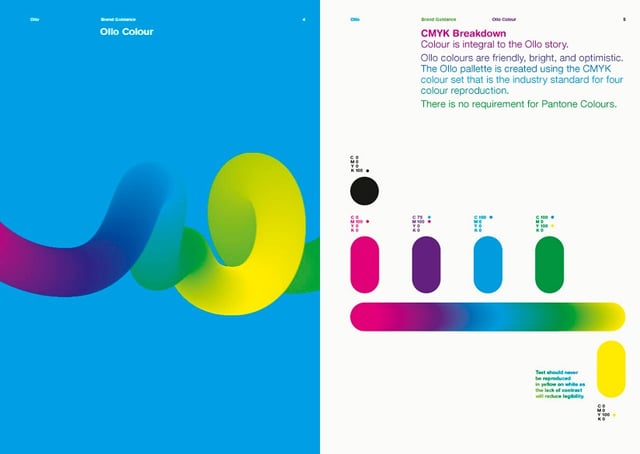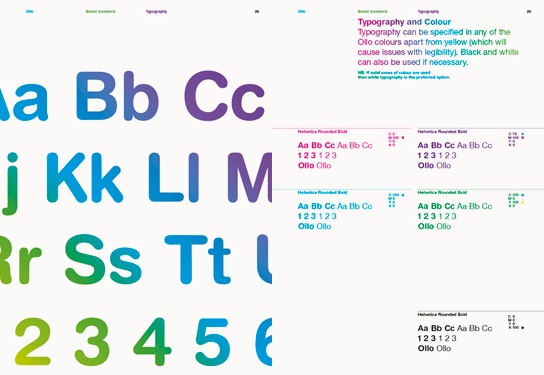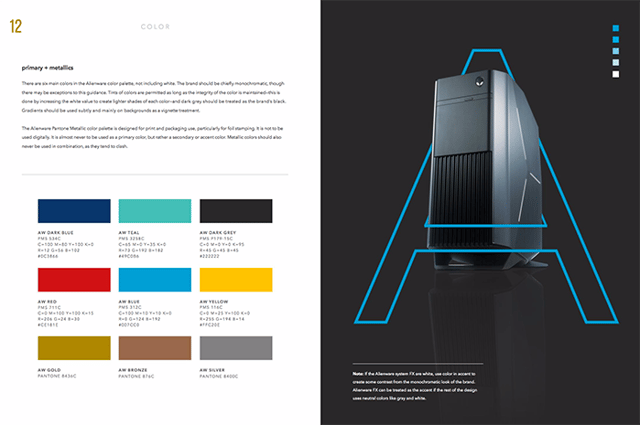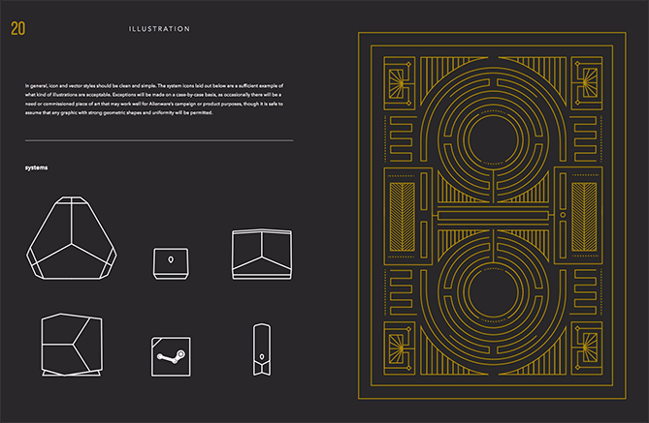 Alienware Brand Design Guidelines