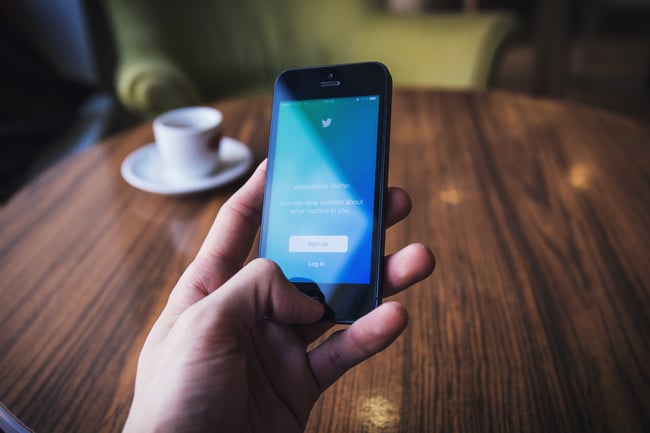 "How much presence should my social media channels get on my website?"
This question was put to us by a client this week as we began to wireframe their new website.
The client's website already features a scrollable feed of their Twitter and Facebook channels on various pages, and they wanted to include these again on their new site as they were "interactive and engaging" pieces of content.
While we agreed that embedded social media channels on websites are certainly engaging, we believe that they can detract from the main purpose of the website - which is to ultimately drive new business, or take another action. Here's a deeper explanation...
Distraction leads to confusion
How many times have you bought items such as chocolate and chewing gum at a shop till, even though you don't actually need them? This impulse purchase at point-of-sale stands plays exactly the same role as social media feeds down the side of your website pages.
Web visitors will quickly browse the page content, and then get distracted by your social channels, which may even lead them away from your website altogether - potentially never for them to return.
Web visitors need clear and concise paths that they can follow in order to get the content they want. Its not always about what you put in the navigation bar, its also about the way you share content with them that makes it digestible with no distractions.
Website content should be No.1
Your website content - the actual words you put on your main pages, should be no.1, as they help drive web visitors towards the action you want them to take.
The average product page, for example, needs to showcase what the product is about, how it can be used, what it can help to achieve, and how others have found it a useful product too.
If a website visitor finds their way onto your product pages, make no mistake about their intentions - they are looking to buy. If they've got the information they require (just like the paragraph above highlights) you have captured a potential business lead.
With this in mind, having social media feeds embedded on your product pages especially, is confusing the buyer's decision making process - let your web content do the hard work instead.
Re-align the role of social media
Instead of being a source of interactivity on your website, social media needs to play two more important roles - to drive traffic to your website, and provide another communication channel for your potential customers to contact you through.
When your publishing social media posts, don't think about how it will look embedded on your website. Instead, think about the impact it will have on people who see your post for the first time, or the impact it will have on followers that are now looking to buy.
So, how much presence should you give them?
There is still a role for social media to play on a website, but that role needs to be a little more discreet. Social media follow buttons within the header or footer of a website have always been popular. You could even get away with having a one-post social media stream embedded in the footer of your website.
Another idea would be to have a pop-up appear if the web visitor looks like they are about to leave the site. This pop-up could ask them whether they'd like to follow you on social media, so they don't forget they visited you - keeping them engaged in a conversation with you.
Whichever option suits you both, remember that social media is here to help drive traffic to your website, and your website should generate that traffic into business leads and enquiries.
Keep things simple for the web visitor, and reap the returns later down the line.