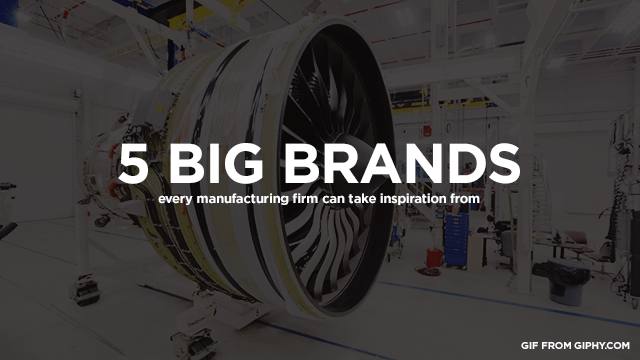 Manufacturing companies are all vying for the attention of their audience. While the use of big-budget, mainstream advertising campaigns is typically constrained to large consumer-facing manufacturers, there's a lot of lessons that all manufacturing firms, (both B2B and B2C,) can learn from these manufacturing giants.

Big advertising budgets aside, effective brand communication can be achieved by doing two things: Aligning your message with your audience's needs & interests, and building intrigue and engagement through thinking outside of the box.
I've picked on the top companies within the manufacturing sector (according to Google) to see how their performance stacks up: In some cases, the reasons for their success is evident by the quality of their branding and communications. Others are not so obvious... this might be due to archaic branding, or the way in which they structure their brand hierarchy (in the case of General Motors they operate almost as a shadow company and focus the brands within their 'family' that are more customer facing than the owner group).
So, if you Google the top manufacturers worldwide they are:

1. Toyota
2. Volkswagen
3. Samsung Electronics
4. Daimler
5. General Electric
You could probably draw most of these companies' logos from memory, or at least, recognise the brand.

Taking the logos in isolation, these brands may seem simple, but becoming a household name is not an easy process, it requires the brand to work much harder, filtering down through multiple levels of communication. However, I will endeavour to try and show some of the reasons why these brands work so well...
Toyota
With a revenue of 235,364 million dollars, Toyota is the top of the manufacturing pops (or table...if we're being official.) It's a company that has factories all over the world (one not so far from this very studio,) they sell cars that are known for their reliability, modernity and also their green/economic performance (for example the Prius).
Looking at the Toyota logo in isolation, it's clear to see the red and white associated with Toyota's home country, Japan's flag. The 'chrome' emblem is a creation made of 3 ellipses that form a rough T centrally, most likely to represent Toyota.

According to the Toyota website, the ellipses logo made its debut in 1990 on American vehicles;
The Toyota Ellipses symbolize the unification of the hearts of our customers and the heart of Toyota products. The background space represents Toyota's technological advancement and the boundless opportunities ahead.
But Toyota's success cannot be attributed to a logo alone; Aside from their commercial strengths and diverse portfolio of products, Toyota's brand communications strategy is solid:

Their recent US campaign, 'Let's Go Places', is a lighthearted example that empathises how Toyota's products are designed to take people wherever they require. Let's Go Places emotes a journey, adventure and energy that Toyota can provide, which I particularly like. It was also reviewed by AdWeekly (available here).

With all of the hype last year around Back to the Future 2, there was one release by Toyota that was rather ingenious. It had Doc and Marty from the film and a scientist called Misha from Toyota. The short was an advert for the technology used in the Toyota Mirai, and how it was fueled by everything, running on hydrogen (a huge technological advancement that the film didn't predict).
As well as being a brilliant piece of timely marketing, it also is partnered by the Fueled by Everything series, which provides a witty and personable approach to a scientific process that many don't understand, plus it helps encourage people to be green with waste.
If you look at an infinity symbol, you realise the rough thinking behind the idea.
Volkswagen
VW, VeeDub, however you want to pronounce the name, it's everywhere, sometimes for the wrong reasons (no-one mention emissions tests). However, their cars and brand are considered as probably the most reliable in the world, as my mum says 'those cars are practically bombproof'. The logo mark is sturdy, clean cut and robust, summing up the engineering precision of this brand.
The use of blue reflects reliability, hardworking and in recent years sociability... I'm sure that the designers were not aware that they'd be sharing the same hues as popular social networks. The typography is something that many designers appreciate; it's considered, well balanced and Swiss in style, if you think VW you wouldn't jump to associate comic sans or word art (well I hope you wouldn't.)
Two genius VW Beetle adverts from the past are summed up well in this Brandstories.net piece (available here)
Campaigns have been famous among designers and consumers alike, worldwide. They are clean cut and often brilliantly witty. With recent issues (emissions tests) that have dented the trust in the brand, VW launched a campaign to show how far they have taken their customers. The phrase of Then Now and Always serves as a reminder to the consumer that it's a brand that will carry you and your family from beginning to end and back again, through highs and lows.

This is a smart tactic to remind those want-away customers that the loyalty to VW is a two-way relationship.
Samsung Electronics
The main thing you'll notice about tech giant, Samsung's brand is the typography, fresh clean and modern. It oozes a certain innovative and forward thinking approach. When you consider that they are a technology company that is trying to pioneer the future for electronics/gadgets, it should be clean, memorable and stand the test of time, which is not an easy task.

Samsung's brand communications and campaigns have the difficult task of going up against Apple. However, rather than go head to head comparing the bells and whistles, Samsung use this opportunity to poke fun at their competition which is done brilliantly in many adverts:
The main campaign that caught my eye was the #OverToYou campaign, which engaged vloggers, bloggers, and sports personalities to advertise the Galaxy S4 phone. This campaign was brave, as it would place Samsung into a more organic and uneditable viewership, a risk that could go either way. The campaign was entirely digital and focused on social media sites. Below is an example of what was created.
The videos may be simple but with an already huge following, these people helped create a viral buzz around the phone's new features, for what was probably a lower budget.
Daimler

Oh Daimler you're a strange old brand! As mentioned above, General Motors primarily promote their owned brands, Daimler is predominantly the same, so I wouldn't be surprised if many people haven't even heard of them, let alone associate them with Mercedes-Benz. Having myself being in the former group, I was surprised that the branding itself appeared how it did.

Given the branding considerations above, it'd be better to look at Mercedes; familiar as a luxury car brand, Mercedes' campaigns reflect the brand's cool, slick persona. They use video particularly effectively to convey their aspirational brand values. This video of one of the latest endorsed projects features extreme sports, yachting and Hugo Boss, it hints at a James Bond scene, creating interest and reinforcing the glamour, prestige luxury values the brand endorses.
Though Daimler as a brand is particularly bland, the companies they own are a little savvier when it comes to what they show to the customer.
General Electric
GE have their fingers in many pies, this is described on their website:
GE imagines things others don't, builds things others can't and delivers outcomes that make the world work better. GE brings together the physical and digital worlds in ways no other company can. In its labs and factories and on the ground with customers, GE is inventing the next industrial era to move, power, build and cure the world.
Although their brand hasn't altered in its history, I like how it has been cleaned up since earlier incarnations. It's important that brands are proud of their heritage and retain that when updates are required - something you might be considering while reading this.

GE is a playful and out-of-the-box thinking company that reflects this within its branding: The monogram can be used in a variety of colours and its communications are playful. I'm a huge advocate for this when it's appropriate. To someone from outside the industry, manufacturing can be considered rather tedious: It takes a lot for someone to digest large amounts of technical information when it's not portrayed in either a considered manner or if it's not engaging and interactive like General Electric.

GE campaigns are a little bit special in my opinion. There's a couple I'd like to pick out...One is The World is Catching up With Owen, which is a campaign to show how everyone wants to work for GE and to advertise its vacancies for their ever growing workforce.
The second is the Unimpossible Missions campaign that debunks common phrases that mean something is 'impossible.' These are ingenious as they promote General Electric's ability to think outside the box to come up with a solution.
So what can you take away from this?
So that's the top five, but these are huge global players, each faced with their pressures to manage public perception, drive brand engagement, counter negative publicity, reflect CSR values...and the list goes on.
It's no wonder that these big manufacturing firms take their branding seriously, but what can we learn from them?
Your manufacturing firm might not face scrutiny from the public eye, need to manage public perception, or need to achieve global recognition...it's likely you'll be targeting a niche audience with much more tailored campaigns.

The approach, however, remains the same...be clear and structured on your brand guidelines and values - and utilise these to communicate with your audience on a more engaging and personal level. Don't be afraid to try new channels and tactics to raise those engagement levels...there's a whole plethora of digital tools at your disposal.
If you're stuck on where to start download our eBook: The Social Brand: How to be interesting, engaging and relevant, via the link below: