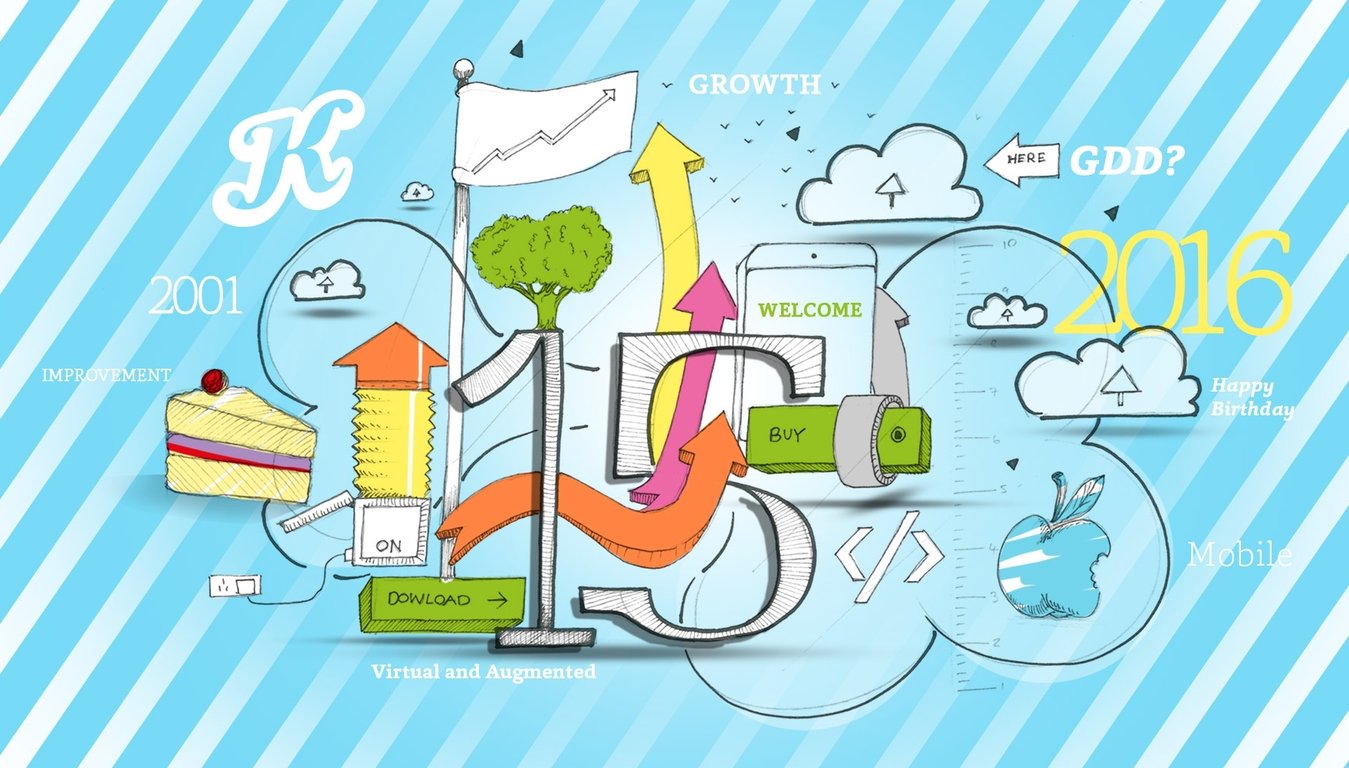 We're half way through the month, over half way through the year, and Katapult are half way to 30! July marks our 15th birthday.
A lot has changed over the last 15 years...in the previous three years alone we've more than doubled in size. This year we were named as a Top 50 creative company by Creative England, an accolade we're immensely proud of.We're excited about being 15, and as always, we're determined to make this year count. There's a lot happening in the industry, and with our clients. As well as significant changes, there are many notable trends to keep abreast of.
We have a lot of predictions and a few question marks too. With that in mind, we've devised a list of trends that we think will be important and what these mean for our focus over the next year.
Without further ado, here's our list of 15 disruptive marketing and technology trends we think will be big whilst we're 15...
1. Virtual and Augmented Reality
We've seen it coming for a while from our experience working in the leisure & attraction industry, but it seems like 2016 will finally be the year that virtual and augmented reality truly break into the mainstream.

We're celebrating this with our own 360-degree video, a creative project we indulged in as a treat for our 15th birthday this month.
With Oculus, HTC, Sony and MergeVR all releasing headsets this year, analysts are predicting sales of over 12 million. Outside of the gaming world, however, it's not clear on what the consumer opportunity will be. We expect 2016 to be a year for early-adopters and experimentation.
On the augmented reality front, Microsoft are pioneering new technology across commercial, educational and consumer markets with HoloLens, a revolutionary type of hologram technology. HoloLens creates a mixed reality environment whereby users can interact with HD holograms, which is pretty cool!
We also expect to see an increase in the number of brands using augmented reality- some memorable examples include Google Translate and the Ikea app.
Ones to watch:
Alternative uses for VR incuding:

Medical - VR Therapy, Recovery, Next gen healthcare tools and experiences.
Education - Collaboration in virtual reality classrooms which fosters social integration amongst learners.

Hyper Reality - The future of VR entertainment - Immersive Experiences see the development work done by The Void and their latest experience with Merlin Entertainment.
2. Motion in design
We've witnessed a big shift towards motion in design. Formats include; subtle animations on websites, multi-layered parallax and the growth of cinemagraphs.
The key is to create a more interactive experience, for websites, subtle animated GIFs, subtle parallax or hover animations work well.
Cinemagraphs help photographs and illustrations come to life, creating a more immersive experience for your audience. Take a look at our blog post for more cinemagraphic wonders.
We're also planning some developments to our own website, so keep an eye out for subtle changes to katapult.co.uk coming soon.
3. Growth driven design (GDD)
Bye bye painful website development processes, hello data-driven, continuous improvement approach...well we hope so anyway.
Measurability and utilising data to inform adjustments and future developments shouldn't just be for marketing campaigns - this should apply to your website too, and that's where GDD comes in...
The approach is founded on three main fundamentals, which are:
Reducing the risk associated with traditional, time-consuming website designs by shortening the development cycle (think smaller changes, made more often.)
Continuous improvement and learning through implementing an iterative approach
Inform marketing and sales by close integration & data and knowledge share.
We're putting a big focus on developing our growth driven design offering in 2016/2017. For local businesses (and those willing to travel to Derby) we'll be holding an event on 1st November with Marketing Derby to provide more information about GDD and how it can help your business. Stay tuned for details.
4. Inbound marketing
The fact that this is high on the list will come as no surprise to anyone who's familiar with what we do here at Katapult. We've invested heavily in inbound marketing over the past four years, and the methodology is thoroughly ingrained in everything we do.
But enough about us... According to HubSpot's most recent State of Inbound report, three out of four marketers across the globe prioritise an inbound approach to marketing.
Inbound marketing drives huge commercial impact. In uncertain times where budget is tight and proving ROI is essential - inbound marketing activities such as content creation & marketing automation will continue to proliferate aggressively.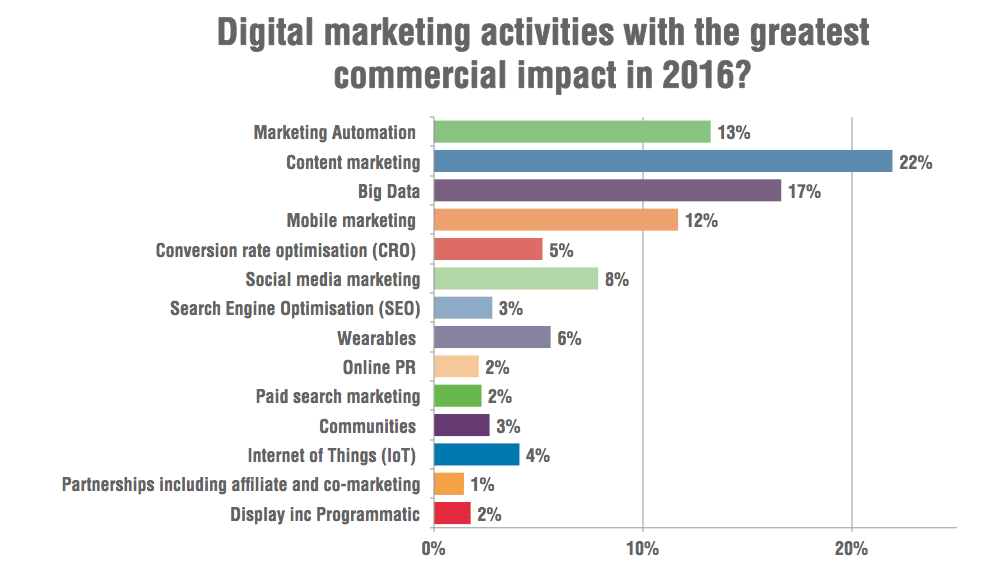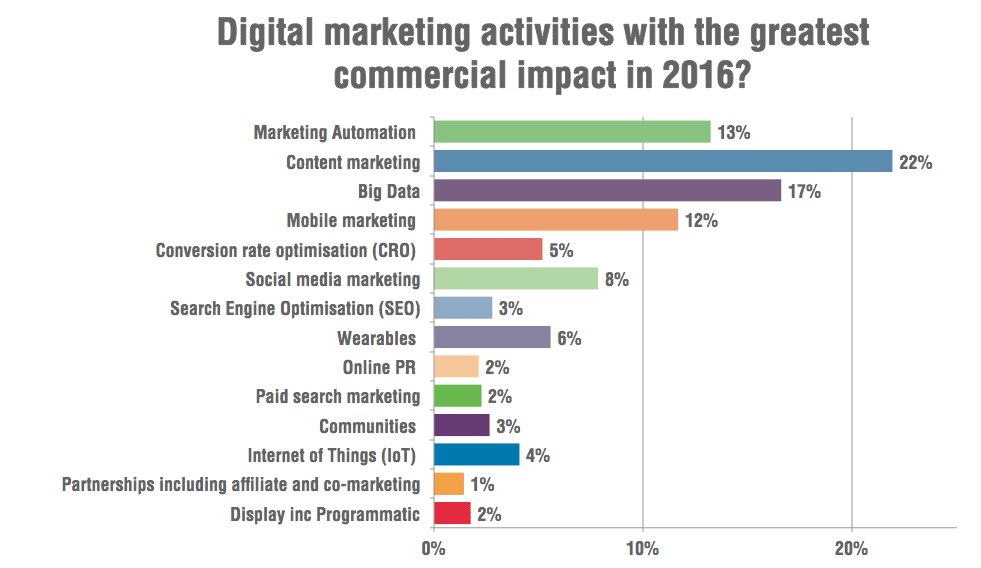 Smart Insights poll
While there's a big appetite for inbound marketing, we're still finding that businesses are struggling to execute an integrated inbound strategy fully. Our focus will be on delivering our fully-managed service to support our clients in implementing effective inbound campaigns that drive leads and sales.
5. More complex buyer journeys
We already know that buying habits in 2016 involve thorough online research before a purchase decision is made. We also know that social proof continues to be a growing power (in a nutshell, the power of customer reviews and case studies.)

While inbound marketing supports this buyer journey, buyers are becoming more aware of transparent inbound marketing tactics. This leaves us with an even more complex buyer journey which demands more than just 'getting found' and 'being helpful. Some new developments include:
Personalised social proof - giving consumers the ability to get social proof from people just like them. Examples include; personalised product reviews or review categories segmented by specific needs.
Algorithms based around increased personalisation such as highly targeted social ads.
The key is reaching the right people, at the right time, with the right message...be personal, be helpful, and don't just bombard people with blogs, build up a relationship with them.

6. Marketing technology
Technology is a huge enabler for delivering better marketing value, and the key is increased efficiency, measurability and integration. When everything is integrated, each component and effort goes further and becomes more powerful.
The marketing automation industry alone is worth over £5.5bn - a prime example of how digital convergence can deliver efficiency gains without compromising on quality. Marketers can then utilise these efficiency gains to focus on what delivers results; *hint:* a robust strategy for generating leads and nurturing prospects.

As a HubSpot Gold Partner, we're confident that Katapult can leverage the best tools for the job when it comes to deploying our strategic, creative and technical approach.
Aside from automation, technology also enables marketers to provide a more personalised, interactive experience through ambient proximity.
What on earth is ambient proximity?!
Well, in recent years we've seen the growth of location-based marketing technology such as iBeacons and RFID that detect nearby devices and utilise push notifications to deliver marketing communications in real-time. Just this week we've seen the announcement that Pokemon Go will roll-out sponsored locations for retailers in future.
Ones to watch:
Ambient proximity in other connected devices, beyond just smartphones...connecting the internet of things to beacon technology. Examples here
More Ambient Interfaces (think Google Now - but bigger)
7. Less is more
People have less and less time, attention spans are short (8.5 seconds) yet there's more and more and more content to consume - very soon you can enter a law of diminishing returns. This is why bitesize content works, delivering short, on point communications that can be consumed in real-time.
We've seen a huge rise in Ephermal marketing - exclusive content that has an expiration date. Snapchat is the ultimate platform for connecting with consumers in this way, with reports of over 150 million daily users (more than Twitter). Consumer brands and media brands are already maximising this opportunity, but we wonder whether this year, more marketers will come to take the channel & the opportunity more seriously,
Less is more also applies to audience size: One-to-few communications should replace untargeted mass marketing. Data and digital channels give marketers the ability to be more targeted through behavioural segmentation and personalisation. Great examples include podcasts and newsletters to smaller audiences.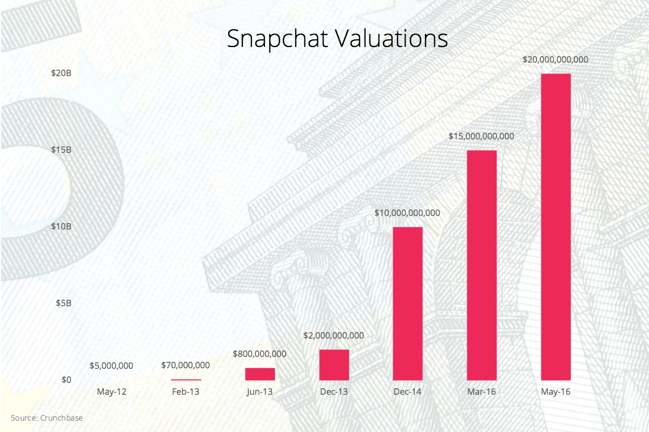 One to watch...
8. More and more mobile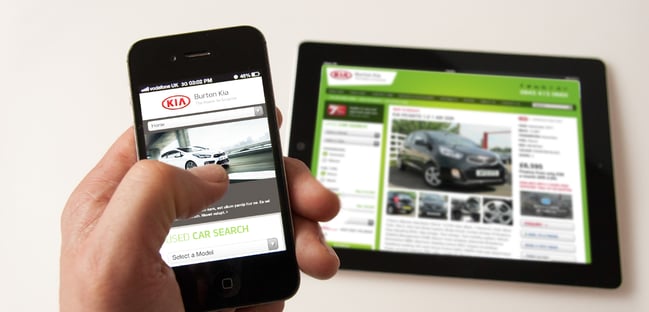 This may seem like an obvious one, but we feel it's worth mentioning - due to our shock at how many businesses don't even have a mobile responsive website yet. (See our recent blog for more on responsive design.)
Mobile first design and functionality should lead the web development process - beyond simple responsive layouts, companies should also be thinking about how they can use readily available analytics data and WebRTC technology to tailor the user's experience. Examples include displaying lower resolution videos on mobile devices to reduce data consumption, or an airline prioritising online check-in on mobile, versus new bookings on desktop.
9. Heavy focus on ROI
Enough with the fluff...marketers must be more accountable for ROI. According to a recent study by Leapfrog Marketing Institute, 93% of CMOs agree there is more pressure to deliver measurable ROI. Proving it is also the number one challenge marketers face, according to HubSpot's State of Inbound report.
The events of the last month in the UK alone, in light of Brexit, highlight that uncertain times are ahead, and to secure marketing budget (albeit it tight) delivering ROMI (return on marketing investment) is more vital than ever.
At Katapult we start with ROI - working back from a goal to determine the strategy, tactics and level of marketing activity required to achieve results - thanks to digital marketing and technology (as we mentioned earlier) this can all be measured - so it's easy to prove - and more importantly, easy to see where to improve.
10. Sales & CRM
As inbound marketing develops, so does the need for inbound sales.
The traditional sales process is broken - as we know, buyers are in control of the research process and very skilled at evading sales people.
To succeed, salespeople need to add real value, and to do this, they need intelligence (we're not talking about a PhD) they need intelligence data. Marketing technology enables us to capture intelligence data - what a prospect has viewed, opened, clicked on, read, watched etc. Sales enablement relies on utilising the data available in the CRM to have more informed and more valuable conversations.
Take a look at our recent inbound sales presentation at the Derby HubSpot User Group event to find out more about inbound sales.
One to watch
More sales enablement technology to support sales reps in having more meaningful conversations that engage more prospects and ultimately close more deals. Take a look at the tools available from the likes of HubSpot and Salesforce.
11. Smarter devices
The Internet of Things; connected devices, lightbulbs, home appliances, car tyres, the list goes on. We're moving towards 'The Internet of X' where the possibilities of connectivity and data are almost endless.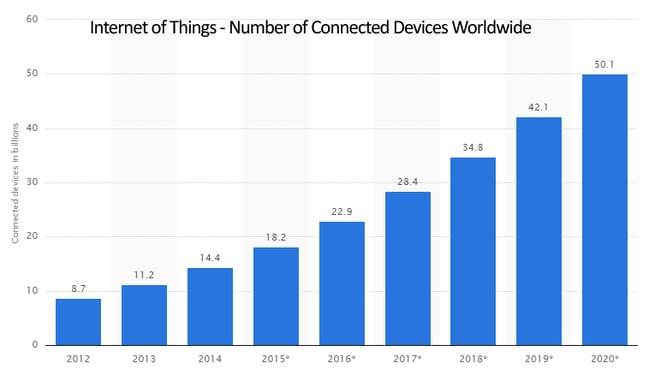 What does this mean for Katapult? Well, we're not sure yet, aside from possibly some funky tech in office? It's certainly one to watch from a data perspective - as marketers, we should be able to use the mine of data available from various connected devices to target people on behaviours, habits, movements and more.
Wearables were anticipated to see a user adoption rate of 28% in 2016...although at the moment the Fitbit step challenge at Katapult HQ seems to have been overtaken by Pokemon Go at the moment!
12. Brand experience advertising
"An audience will no longer be a passive spectator to an advertisement, but an active participant in it" - say Forrester, in relation here to in-game brand advertising opportunities in Minecraft.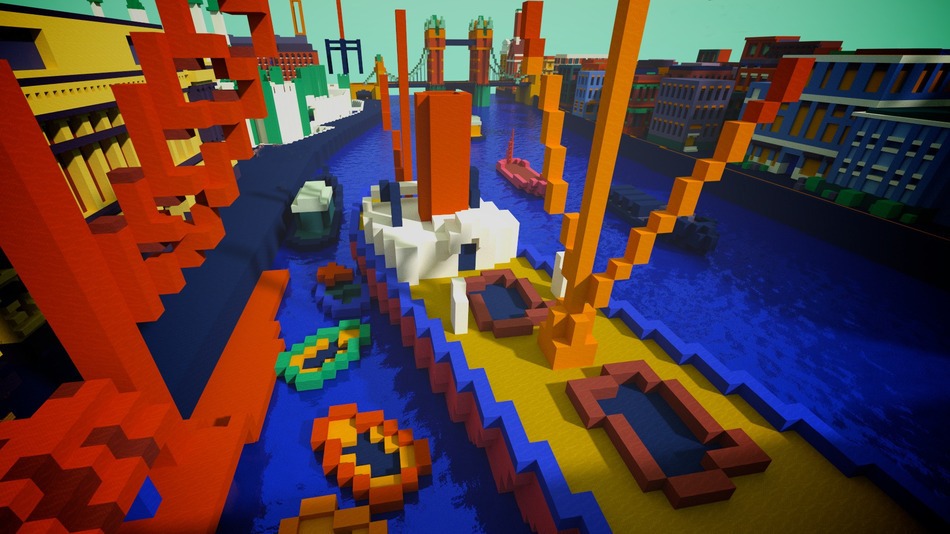 Across the board, companies must reinvent their brand building strategies to create a connected, customer-centric brand experience - engaging their audience in new and innovative ways. If you're running an advertisement or campaign, make it part of the brand experience.
We've seen some fantastic examples of this in the visitor attraction industry - read our roundup from Blooloop LIVE; Driving brand engagement in the visitor attraction industry
13. Online retail... in store
Traditional retail is struggling - and retailers must evolve to keep consumers satisfied by augmenting the experience. Augmented reality is one approach, but sooner than that we're looking at in-store eCommerce and personalisation through apps, digital POS & digital marketing including email, push notifications and social media.
14. Video gets smarter
On average, people consume one hour of video per day, meaning that video is still a massive growth area.
Video Analytics will become more important
As online video marketing emerges as a top advertising channel, video analytics are becoming all the more important. Smart video marketers are constantly on the lookout for information on how their campaign is performing.
With plenty of resources available, (think Wistia's great individual viewer analytics) it has become easier than ever to analyse your performance against key metrics. Still, many marketers have been slow in incorporating sophisticated video analytics and tracking systems into their infrastructure. We believe that in 2016, video analytics will take center-stage.
360° Video will surround us
With an ever-increasing number of consumers looking for options to explore products in more innovative and exciting ways, this trend doesn't seem to be fading out any time soon. 360° video is clearly a game changer.
Facebook is developing their platform following their recent 360° video announcement. How exactly brands can capitalise on this is yet to be seen, but we have a seen a few throw their hats into the ring – like this Redbull example. We expect huge 360° video growth in 2016.
Interactive Videos
Traditional video marketing was too simplistic and did nothing but turn audiences into passive viewers. Thanks to the rise of interactive videos, visitors are now able to click and engage with the content contained within the video. See an example of video from Videopath that makes it easy to understand why interactive videos are so sought after.
Drones
They covered over 25,500 square feet and had 29 exhibitors at CES this year; more than quadruple the number of vendors as last year. There's a big development of smarter drones, such as drones with tracking technologies, or those with additional sensors to more accurately read their environment.
15. Growth!
On the topic of growth, it'd be remiss of us not to mention our own plans. As a partner to clients with an appetite for growth, we share the aspiration not only to scale but also to grow in terms of our skills, capabilities and service levels.
As well as improving the impact of our own business development efforts, this means putting a robust infrastructure in place that includes processes to improve the quality of our outputs and which also provides our team with the autonomy they need to produce great work. We've made great progress on this over the last few weeks and are already starting to see the benefits.
Have we missed anything?
Let us know in the comments below if you think there's a big trend we've not mentioned, or your thought on the ones we have.