First impressions count. In fact, when you are walking around an exhibition hall with 100+ companies all talking about a similar thing, you can be put off approaching a stand for the slightest little reason.
So it's important you get the details right, your stand must look engaging, reflect your brand and its values, as well as key messaging targeted at your potential customers. Here's just three exhibition stand design projects we've worked on recently to help our clients engage with their customers.
Make yourself memorable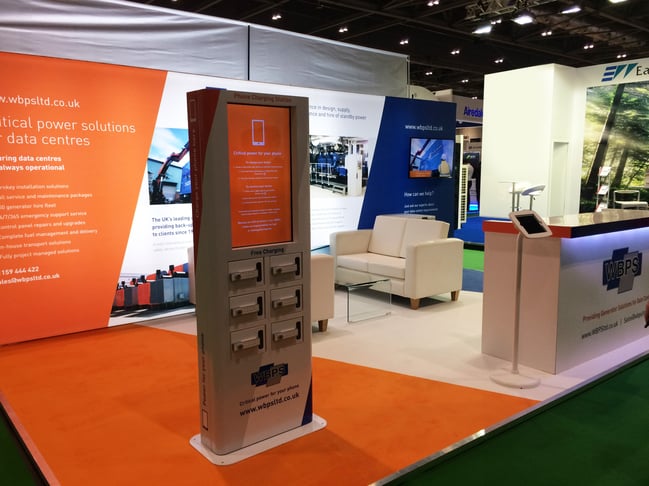 Our client WBPS, attended "The world's largest, most influential gathering of data centre expertise", Data Centre World. We designed an exhibition stand that not only looked good, but portrayed the work that WBPS do - providing portable power solutions, back-up generators and long-term power support.
As a result of their nature of business, we decided to have a mobile phone charging power point for visitors on the stand. This was on brand, provided a clever engagement for potential customers, and also gave people a reason to visit the site.
This solution not only was useful for exhibition attendees, but it made WBPS memorable and helped break the ice with the sales team as the power points provided a talking point.
Keep the right people on your stand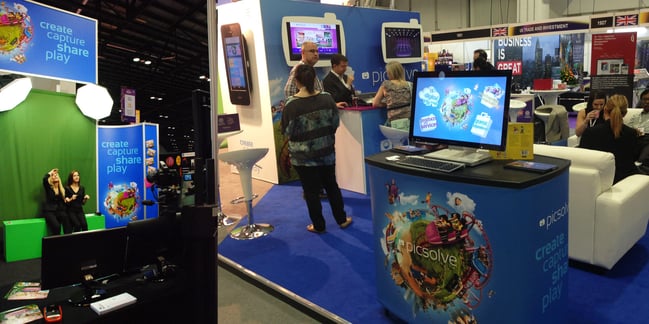 Picsolve is an image captcha specialist in the leisure and entertainment industry. They are probably the company that took your photo on that rollercoaster you were on last week and had you stand in front of a green screen doing something funny. The best way to showcase what they do and engage their potential customers was to have a green screen on this stand and offer visitors a glimpse of their expertise.
This stand was debuted at IAAPA, the global conference and trade show for the attractions industry, providing a photographic experience for attendees in Florida, Europe and Asia.
Visitors to their exhibition stand were able to see the technology working and walk away with a printed picture too. The stand also included a full video wall and horizontal brand screens to make the stand as engaging and eye-catching as possible.
There is only so long you can keep someone on your stand talking about what you can offer while holding a brochure. This exhibition stand design for Picsolve shows that by having the right information, engaging tactics and space to sit and talk, you will ensure you attract the right people to your stand and generate new business enquiries.
Explain what your company does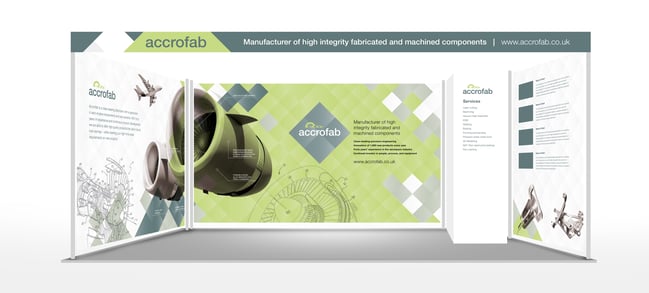 With 1,500 exhibitors from 52 different countries, it is important to have an exhibition stand design that explains your business clearly at Farnborough International Air Show.
This was the venue for our client Accrofab, who are manufacturers of precision engineered parts for the aerospace industry. We created a stand that was both eye-catching and functional. The copywriting, for example, was short and to the point, including case studies of work that the company had done to show authority and expertise in the industry.
Therefore, instead of creating a stand where the Accrofab team were simply flicking through the brochure with attendees, they were able to talk freely about the brand by using the stand as prompts to talk about key points.
Go the extra mile
Try not to be that stiff brand that thinks they can get away without a brand coloured carpet, or simply a stand design which is a logo on a white wall. Go that extra mile and create engagement.
Think about what you offer and how that can be translated into your brand. Task your design team to be clever with it in order to engage customers like you never have before.