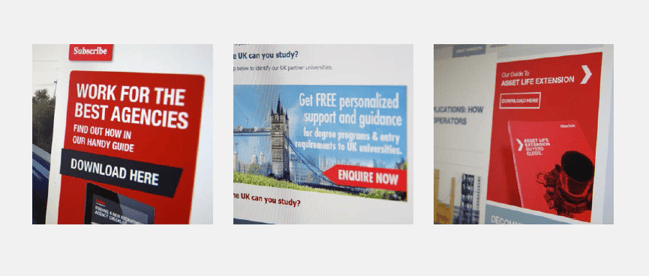 Maximising ROI on any trade show exhibition space is surely high on your agenda when justifying the cost and effort it takes.
After booking your slot and thinking about just what you're going to be promoting, your attention should turn towards promoting your presence at IAAPA. The advertorial phone calls may come flooding in from all angles of the trade press – but really, you should think about your OWN assets before venturing into the world of paid media.
And to self-promote, there is no better place to start than your very own website – and this is where call to actions really come into their own.
What is a call to action?
A call-to-action (CTA) is an image or text that prompts visitors to take action, such as subscribe to a newsletter, view a webinar or request a product demo. Your CTA is the key element connecting your marketing goal with the means of achieving it, so it needs to be integrated into every part of your event strategy.
How can it help my trade show efforts?
A great way of creating 'buzz' around your brand throughout IAAPA is organising some kind of an event at your stand. Whether it's a product launch or a giveaway of cool freebies, the more engagement you get the better the chance of getting more real business prospects.
But how do you make sure they actually attend your exhibition launch? Well, for those prospects and previous customers you're in contact with who may be browsing your website, your call to actions inviting them to your launch is an easy way of getting a good engagement.
This of course means you also need a well-made landing page and a CRM system that can store contact's information – more on these areas can be found in our free eBook Best Practice for Achieving Results at Trade Shows in the Leisure Sector
What offer should I offer?
Your call to actions should offer something that your prospects may find interesting. As well as the launch of a product, as we mentioned above, why not offer something your prospect needs that they can get at the event. Free account review? Industry report? A 30 minute chat?
Whatever the offer, make it alluring, make sure it adds value, and make it clearly visible on your call to actions.
What's the best design for call to actions?
There's no set formula for the perfect call to action, and in some respects you will be limited by the space you've got on your website to fit a call to action somewhere. Ultimately, it needs to stand out from the rest of the writing and images on your web pages already and that means choosing a colour and shape that stands out.
Once you've got a great design, with the support or an internal or external designer, make sure the wording your using on the CTAs is light touch. You want to aim to get the balance right between a concise and interesting message that makes people want to click through to the landing page offer you've created.
Don't forget about physical CTAs…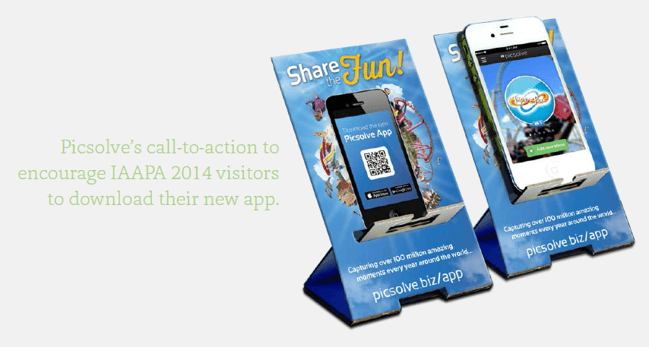 In terms of CTAs, it isn't just the ones on your website that can add value to your IAAPA marketing strategy. Having CTAs promoting an offer or a free demo AFTER the launch on your stand is a great way to drum up more prospects too.
Visitors walking around a trade show like IAAPA or EAS will naturally gather information from exhibitors as they walk round.
To combat this, you need to be memorable and provide a compelling offer. Your physical CTAs need to be everywhere; on signs, handouts and giveaways, and pointed out by staff during conversations with prospects on your stand. The more impactful the call-to-action, the more likely visitors will remember it and make an action, and the more likely you are to convert them from a lead into a customer.
To find out more about call to actions, and other way of improving your digital marketing strategy for the next IAAPA event, download our free eBook Leisure and Event Marketing: Best Practice for Achieving Results at Trade Shows in the Leisure Sector.