Last weekend, Derby Festé wowed audiences from far and wide in the streets of Derby, as part of its 10 year celebrations. With a vast collection of sights, sounds and emotions, Derby Festé swept through the city for two days, culminating in a large show on the Saturday evening.
For those who aren't familiar, Derby Festé is an annual event that brings people together through world-class culture – presenting intense and involving experiences across live performance, music, film, and all other art forms.
Image: MadeinDerbyshire
This year's event
Now in its 10th year Derby Festé was certainly going to be a show not to be missed. The Saturday night headline event saw French performance company Transe Express Express bring its brand new outdoor performance, called MÚ, to Bass' Rec...becoming its second ever performance in the UK.
We also saw the return of the fabled Sarruga dragons, which caused a stir as they made their way through the Cathedral Quarter.
Somebody let the #dragons out again #derbyfeste pic.twitter.com/wGLgaLW23J

— Stela Zlatkova (@StelaZlatkova) 23 September 2016
The Derby
Festé

brand

Derby Festé is truly an unmissable experience, driven by the belief that culture brings people together. 10 years on, and it's clear that this vision has been well and truly realised. We've including a few Tweets to prove it.

Katapult had a hand in the brand development process, and we thought it would be worth sharing some of the creative thinking behind the Festé brand, distilled into a simple breakdown of what makes Derby Festé, well... Derby Festé.
Brand values:
Derby Festé was born from the child like wonder and exploration of the world through performances, of which not many have seen before or will be seen again (unless revisiting Festé of course). This led to the follow synopsis of the core values of Festé.
Amazing evening at #derbyfeste . Didn't know where to look next ! pic.twitter.com/Hz7EvpQ3yt

— Derby Express (@DerbyExpress) 24 September 2016
Child at heart
"We look through the eyes of a child to create the wondrous, the magical and the spectacular. To fuel dreams and fire imaginations, we are playful, demanding and where necessary, a little bit mischievous."
Amazing turnout for #derbyfeste pic.twitter.com/RGTaYi8kw0

— Martin Broadhurst (@MPBroadhurst) 23 September 2016
Explorer
"We attach great importance to our city but have a burning desire to seek out culture from across the world and bring it home. Always looking to set a new mark for our achievements, we have to be ambitious and willing to take risks. Through the location and content of programming, we encourage our audiences to explore both the city and their personal capabilities."
The most memorable thing for us this weekend has been seeing people enjoy, laugh & look on in wonder. Thank you @ace_national pic.twitter.com/iIKgmi0cW9

— Derby Festé (@derbyfeste) 25 September 2016
Life & Soul
"We know how to start a party and we get everyone involved by being infectiously enthusiastic and highly visible. We are transformational, physically changing city spaces and opening doors to culture to create opportunities and new possibilities. We want to be the beginning of something for Derby and all of our audiences and participants."
@derbyfeste @intuDerby @ace_midlands My dad took this seconds after one of the slinkies stole my shopping! It spat out a shoe shortly after.

— Daisy Leverington (@daisyjoy) 25 September 2016
Flag-bearer
"Derby Festé is a celebration of our city that highlights the passion, energy and commitment of Derby people. We are a flag-bearer for culture, passionate about its potential to galvanise people and change lives. We are committed to world class programming, fervent in our belief that a no compromise approach to standards is the only way to make a meaningful contribution to our community, economy and society."
As the French would say: Superbe! The finale of @derbyfeste did not disappoint. #feste16 pic.twitter.com/XsMNa3D60f

— Marsha Ramroop (@MarshaRamroop) 24 September 2016
About the logo...
With the brand values understood and written out, it made for a fluid and upbeat creative process. Projects of this nature enable a designer to wander and almost link ideas their own life experiences. This often makes for a better, and more longstanding outcome, and with this the Derby Festé logo mark is born.
"The Derby Festé brand mark represents an intense and involving event that brings people together through world-class culture. Irregular in its form, it reinforces that Festé is anything but predictable and highlights its playful nature. Its bespoke logotype is designed to encourage audiences to take a closer look whilst the exaggerated accent reflects its outgoing personality – these elements combine to present a vibrant, inviting and high impact brand."
The creation of a isometric backdrop (for the logo mark) came from the notion of ever changing, and almost volatile presence upon any media that it would appear. The brand will forever evolve like the shows themselves.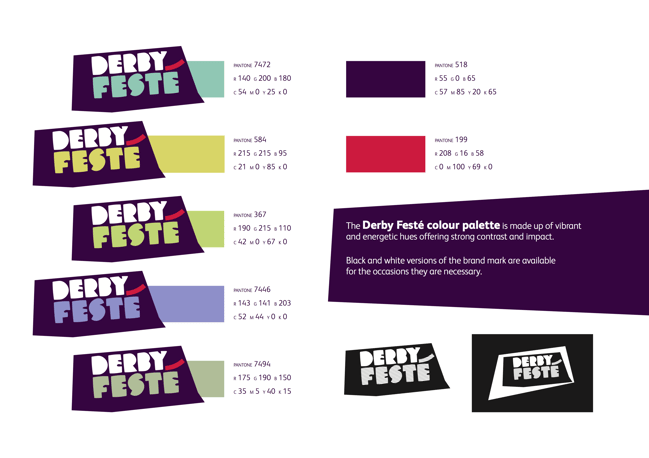 Accompanying the quirky logo mark is a brand colour palette that reflects the values mentioned above. It's a fairly free palette in order for the brand to be best represented wherever it appears (be it an advert, web banner or on a billboard).
Here're some of the reactions to this year's Festé
That's how you start a festival! #feste16 #derby @derbyfeste https://t.co/GezhTeqTUv

— Derby Telegraph (@DerbyTelegraph) 23 September 2016
What's been your favourite moment from @derbyfeste
today? #feste16 #derby https://t.co/m2n1fqSjey

— Derby Telegraph (@DerbyTelegraph) 24 September 2016
And here's to many more years of Festé fun!
Love what we post? Subscribe to our weekly blog digest