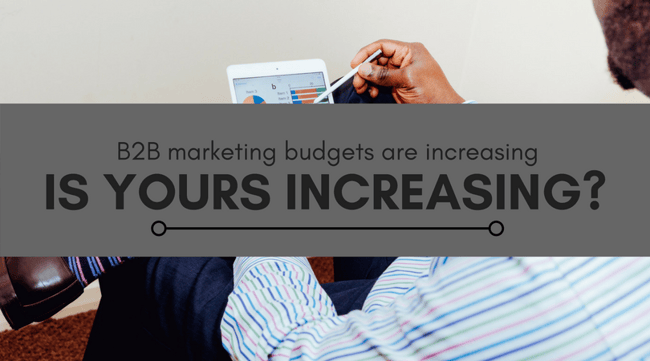 It may be a surprise to some readers to see marketing budgets increasing, for the first time since the phrase "credit crunch" was whispered back in 2009. But frankly, UK B2B firms are beginning to realise the value of marketing once more, as digital techniques, in particular, are aiding marketing managers to accurately analyse and track-back the return on investment from their spend.
As a result, marketing budgets are increasing, allowing managers to fulfill their plans of having a new website, recruiting an assistant, or simply putting more money into generating new business. The latest CMO Survey, supported by Deloitte, looked into this upturn in marketing spend, and just what was behind business directors now agreeing to support marketing more.
Here's a brief summary of the survey results:
The overall stats
Budgets saw an increase of 6% in 2016, compared to 2015.
Budgets in 2017 are expected to increase by another 7.2%.
Marketing now takes an 11.3% piece of the overall company budget.
Marketing spend, however, is only 7.5% of overall company revenues.
What was the budget being spent on?
You wouldn't be surprised to see below that digital marketing techniques have taken over the spend, regardless of whether it is done in-house or by an agency. A phenomenon that is summed up by the budget now spent on advertising.
Digital advertising
Digital advertising is growing in usage. Survey respondents on average had said that digital advertising had increased in the past year by 9.9% - traditional advertising in comparison shrunk by -1.3%.
Customer relationship management
The value of the existing customers held by UK B2B firms is being understood and marketing managers are responding by agreeing to see customer relationship management spend rocket by 7.4% in 2017. So too is "brand building", which will see a rise of 6.3%.
Social media
Social media is set to see an astronomical rise in spend over the next five years. While current marketing spend accounts for 11.7% of the budget, in 12 months time that is set to increase to 14.1%, before peaking in five years time taking 22.2% of the overall marketing spend.
Content marketing
Content marketing has become a go-to tactic in the digital sphere to attract and generate business leads. Amongst the types of content that marketers are spending their time and budget on:
49.8% are utilising video and photo sharing
44% are blogging
16.2% seek product reviews and case studies
14.1% host forums
13.7% are creating podcasts
2.3% look to virtual and augmented reality
Mobile
Marketing spend on mobile is expected to increase 118% in three years with B2B companies that provide services more likely to spend money on mobile. Asked about the excellence of their mobile marketing activities in 2016, marketing managers responded with an average score of 3.1 out of 7.
Analytics
The explosion of new digital marketing analytical tools has paved the way for more spend. Marketing managers expect to spend an extra 6.5% in 2017, compared to the previous year. Within three years, analytical budget spend will increase by 68%.
What are the marketing goals?
Survey respondents were very honest in rating their companies marketing. 41% rated their output as "good", "fair", "weak" or "very weak". It isn't just improving their marketing that is their goal, it is to make that marketing output work harder. Survey respondents also revealed their top three marketing goals:
67% want to see an increase of acquisition in new customers
63% want to see an increase in customer purchase volume
60% want to increase their cross-selling and up-selling ability
So how does your marketing budget compare to these statistics from survey respondents in the UK and the US? Are they in-line with the spend that you are set to pay for services in 2017 and beyond?
Share your thoughts on the statistics below.